My initial article on Michigan's Lost Peninsula was pretty lame, but then again, it was only the second time I'd ever posted on the Twelve Mile Circle and the site has evolved considerably since then. Now, thanks to loyal reader Jim C., I get a rare opportunity for a bit of a do-over. Jim has actually visited the Lost Peninsula in person and was kind enough to allow me to share some of the photographs he collected.
Those who are unfamiliar with the geo-oddity found on the Lost Peninsula can learn the basic facts at the original article. Briefly, it's a tiny corner of Michigan jutting into Lake Erie that was clipped from the rest of the state in 1836 when Michigan and Ohio resolved their dispute over the Toledo Strip.
Much like the autobiography of a particularly shallow celebrity, I'm not really the "author" of this entry today. Sure, I'm wrapping a few words around it, making it look pretty and posting it under my name, but really Jim C. has provided the meat. He's the guiding hand behind the scenes who deserves the lion's share of the credit. Thanks Jim!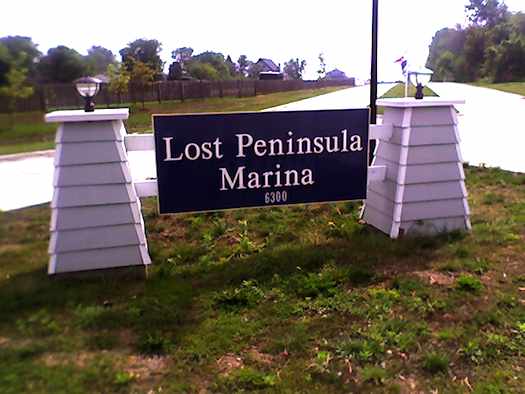 There's not much on the Lost Peninsula except a marina and a few houses. I noticed that there's also at least one restaurant here too. I'd love to eat there. It wouldn't even matter if they had great food. I've been fixated on restaurants coinciding with strange geography lately for no particular reason.
Jim was thoughtful enough to even find the boundary marker in Google Street View.
View Larger Map
Now let's look at a few of his photographs for a better view.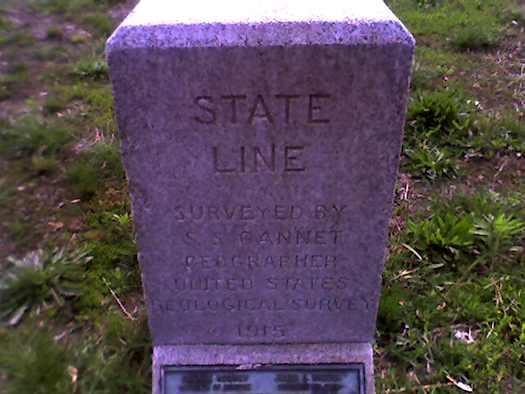 This is the side of the stone that marks the line between the two states. A plaque has been attached to its base inscribed with a quote from Robert Frost's famous poem, Mending Wall: "Good fences make good neighbors."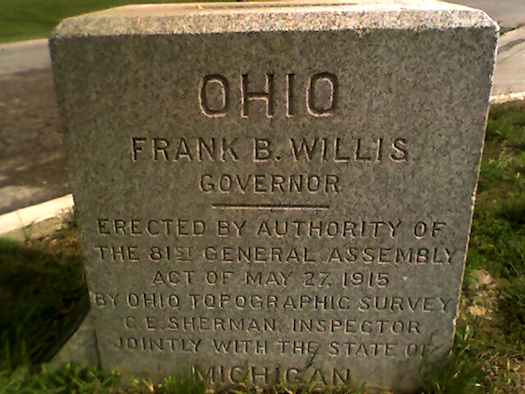 If a traveler from some other area of Michigan visited the Lost Peninsula, this is the side of the stone she would see first unless she came by boat. Here, Ohio ends and the Lost Peninsula begins.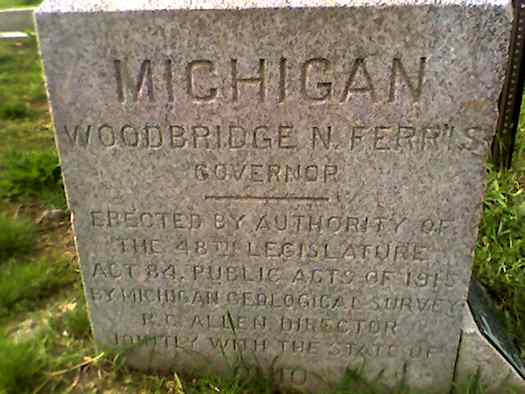 Then she would see this side of the marker once she safely arrived upon Michigan soil on the Lost Peninsula.
Welcome Frommer's Visitors
Also a shout out to visitors arriving from Arthur Frommer's blog, which featured my ferry page on December 4, 2009 (yesterday as I type this). Mr. Frommer says "you'll agree that the site is well worth recording in your list of travel aids." Wow! — nice words indeed for something I designed primarily as an outlet for my rampant perfectionism. I hope some of you new visitors subscribe to the rss feed and stick around for awhile. For long-time readers, here's a link to the Frommer's blog post if you want to see what all the fuss is about: An Oddly-Named Website Provides Absolutely Vital Information on Ferry Services Around the World.
---