I attended a work-related meeting this morning. It was pretty typical, nothing special, and probably like a thousand other meetings you or I have ever experienced in our lifetimes. This one ended a bit differently though. It took place at an office deep within the Madison Building of the Library of Congress and our host offered us a tour after the meeting concluded. I jumped on that opportunity as quickly as I could, quite happy to trade my lunch hour for something entirely more fascinating. I've seen just about every major site in Washington, DC but somehow I'd never been to the famous Library of Congress. It's one of those places that had fallen though the cracks of my experiences even though I've walked past it hundreds of times.
We entered a pedestrian tunnel beneath Independence Avenue (didn't realize they had underground tunnels connecting the building but apparently they have several) and we climbed a flight of stairs to the Great Hall in the Jefferson Building.
View Larger Map
The Thomas Jefferson Building is probably the most famous component of the Library of Congress complex. It was built in the Beaux-Arts style at the tail-end of the 19th Century with great attention paid to ornate flourishes. We received the same basic tour every visitor experiences, however we did get bumped to the front of the line as we entered each room so I guess we had some minor level of VIP status. I can tell we didn't get the true VIP tour because we didn't see anything remotely like National Treasure: Book of Secrets. Even the tunnel was pretty innocuous.
To all the junior high school students who had to stand aside as we passed, I offer my apologies. Life isn't fair kids.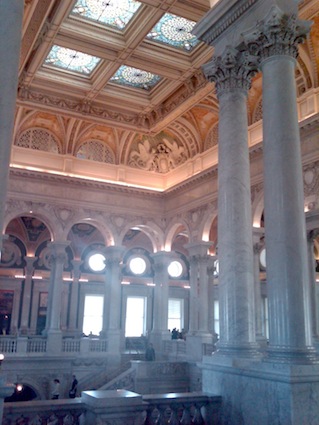 This is the Great Hall. You can probably tell that my only camera was built into a crappy mobile phone. There were plenty of places where the library did not allow photographs though — they said flashes would damage priceless artifacts — but we were allowed to snap away in the Great Hall. So I did.
You will notice as you wander through my account that I also did not photograph any books, which seems a tad ironic given that this is one of the greatest libraries on the planet. Absolutely, I enjoyed the books. They had a Gutenberg Bible printed on vellum which is even more rare than most of the others which are printed on paper. Only a dozen vellum copies still exist. They also had Thomas Jefferson's original library recreated to its original form, with replacement books for many of the volumes that had been destroyed in a fire long ago. However, I wasn't allowed to capture images of any of those treasures nor of the main reading room. Thus I focused my brief time and dismal photographic talent on artistic oddities accenting ceilings and hallways.
That's fine too. I like odd.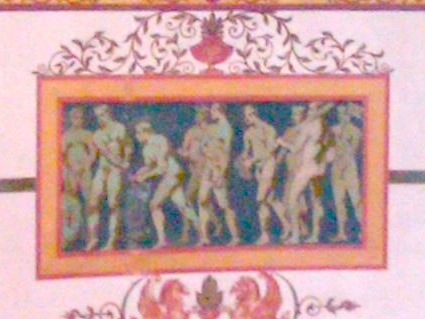 The guide explained that many of the artists who decorated the Jefferson Building had been involved with the World's Columbian Exposition in Chicago in 1893. They needed new employment after everyone finished celebrating the 400th anniversary of Christopher Columbus' arrival in the New World. A major library in Washington became an attractive place to continue their craft and earn a living.
The artists also had a sense of humor. I like this one. Check out the classic Greek image, above. Notice that they're playing baseball. The man on the far right holds a pennant; next to him a guy rests a bat over his shoulder; another has a glove; still another looks like he's winding up to pitch. The Library explains, "At each end of the ceiling is a rectangular panel by Frederic C. Martin painted in a style depicting ancient games, but representing the modern sports of football (east end) and baseball (west end)."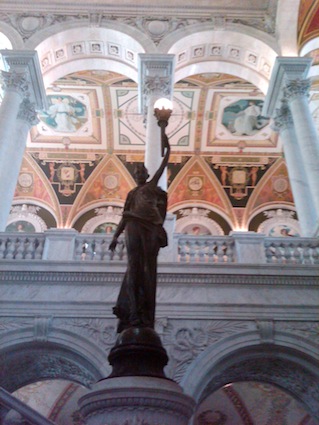 This statue has an interesting story to tell, too. The most visible feature, literally, is the torch in her hand. Why not just a regular statue? Why did someone create it as a giant lamp? We were told that it's because the Jefferson Building was the first structure in Washington, DC that was wired for electricity as part of its construction. People came to the Great Hall at the turn of the last century simply to marvel at the light bulbs. An oversized statue-lamp embodied a wonderful combination of art and technology, a reflection of the United States' image of itself at the time.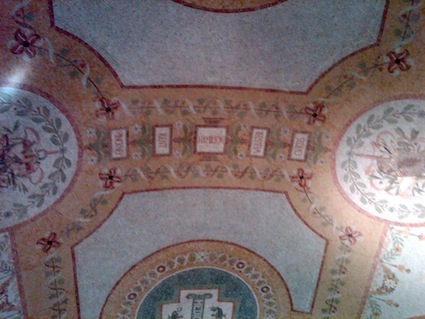 You wouldn't be able to see the detail on this photo even if I'd reprinted it for you in full size. Again, that's due to the bad camera primarily. Ignore that. Just trust me when I tell you that each of the small rectangles contained the name of someone famous a century ago. The ceiling in this area was marked into sections denoting various professions. I think this one was medicine. There were dozens, maybe a hundred names in these little blocks stretching across a gallery of professions. I didn't recognize more than a handful. These remarkable figures have largely faded into obscurity.
Alas, fame is fleeting but knowledge is forever.
---