This isn't a real entry. I have some random topics that I need to empty from the junk drawer. None of these would be sufficient to stand alone but you may find the collected results somewhat interesting.
Statue of Freedom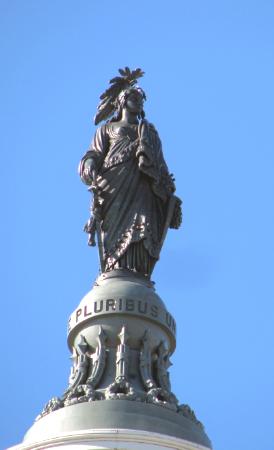 Did you ever wonder about the statue at the top of the United States Capitol building? Me neither. I was walking near Capitol Hill a couple of weeks ago and I wanted to check out the zoom on my camera with my new mini-tripod. The statue seemed a worthy enough target. Its full name is the Statue of Freedom (yes, all three words) and of course it has its own Wikipedia page if you want to know more. There are at least two points of geo-significance here:
The statue aligns towards the east so that "the sun never sets on the face of liberty." The designers made a deliberate symbolic choice, here.
Washington, DC is divided into four quadrants: Southeast; Southwest; Northeast and Northwest, intersecting at a common point at the Capitol building. The Statue of Freedom, being situated at the very center of the dome, is positioned within all four quadrants of the city simultaneously. People can replicate this same alignment within the building by the way, although it doesn't impress ungrateful out-of-town visitors that you've been roped into touring around. They'd rather see the First Ladies' dresses at the Smithsonian instead.
---
Creepy Dolls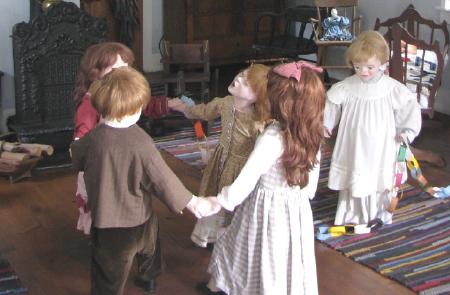 Steve over at Connecticut Museum Quest is on a multi-year mission to visit every museum in the state, and so far he's explored and reviewed several dozen. He's noticed a disturbing pattern, though: Creepy Dolls. This is not a problem exclusive to Connecticut. I submit the following evidence from Watertown, Wisconsin, site of the first kindergarten in the United States. This one-room schoolhouse can be found on the grounds of the Octagon House museum, having been moved from its original location several decades ago. I find the doll with the gaping mouth to be particularly creepy. It's a fine facility otherwise.
---
Monster Trucks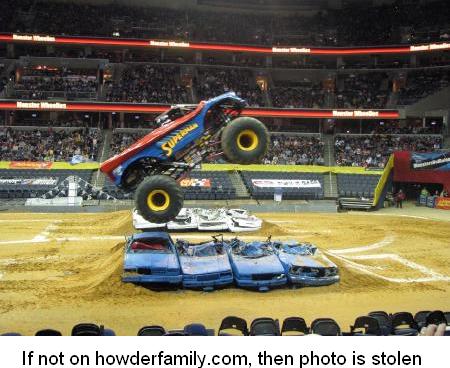 Our younger son is going through a monster truck phase. We bought tickets to the "Monster Jam" as a Christmas gift and the big day finally arrived last weekend. Yeh, I'll admit it. I enjoyed it too. I've been accused before — by my wife no less — of being both high-brow and low-brow simultaneously with no space in between. I'm also the guy who brought a bottle of Chimay Bleue Grande Réserve to the local Demolition Derby so her claim would be tough to dispute. Does that help explain the conflicting themes within this blog?
---
First Time Web Hits
I've been running Google Analytics on the site for a little more than a year and I've recorded visitors from most of the countries around the globe although I still have pockets here-and-there with little or no originating traffic. Those include some of the nations formed from the old Soviet Union as well as a swath of central Africa. However, lately it's become unusual for me to pick up any "new" countries because of language differences, subject matter, Internet availability or whatever. Imagine my surprise when Cuba and Myanmar both checked-in for the first time in the last two days. My visitor from Havana had an interest in Caribbean ferries. I couldn't determine what the visitor from Rangoon wanted to know although I suppose I could go through the raw logs if I cared that much. Two more countries colored-in on the map. Yay! Commies and juntas with Internet access!
---
Under
Miscellaneous
| Taged
Capitol Hill
,
Creepy Dolls
,
Cuba
,
Demolition Derby
,
First Kindergarten
,
Freedom
,
Havana
,
Monster Trucks
,
Myanmar
,
Octagon House
,
rangoon
,
Statue of Freedom
,
Watertown
---