Can any mortal human walk across the Mississippi River? Yes. It's easy to cross the Mississippi at its source.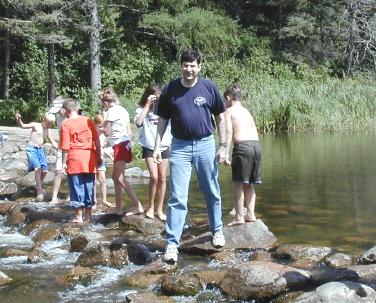 The Mississippi River begins its long journey in northern Minnesota at Lake Itasca. Here the Mississippi is a small stream that can be traversed easily on foot using conveniently placed stepping-stones. It gives no indication of its 2,552 mile journey or the "mighty" force it will later become.
View Larger Map
There are very precise rules about what constitutes the source of a river. For the Mississippi River, this has been determined to be Lake Itasca. Oddly enough there are smaller bodies of water located in the same park that feeds into Lake Itasca, but because of the way the rules are laid out they aren't considered the true source.
View Larger Map
These are quite noticeable on the map, and include Elk Lake, Hall Lake and Nicolet Creek (may need to switch to Satellite mode and drill-in). Elk Lake, the largest one on in this view, was thought to be a particularly worthy candidate to received the Mississippi headwaters designation. Controversy remained until the late nineteenth century when consensus finally settled on Itasca.
---