There were numerous other happenings from my recent Cape Cod and Islands adventure that didn't fit within larger themes. Some of them were unusual. Others simply cataloged additions to my various lists. Still others, well, I'm not sure why I felt they were noteworthy except that they caught my attention for some inexplicable reason. My thanks go out to the Twelve Mile Circle audience for indulging me on this latest travelogue. This is the last installment. We will return to geo-oddity goodness soon.
What the Fox?
Provincetown Fox
I am a terrible photographer. Even so, this blurry monstrosity was even worse than my usual sad fare. I broke a cardinal rule: just take the picture and only then try to get a better one. I was walking down Bradford Street (map) — one of the major roads through Provincetown — very early one fine morning on the way back from seeing the Wood End Lighthouse. I got a strange feeling that someone or something was watching me. I turned to the side and, directly across the street from me, stood a fox with a squirrel in its mouth. We stared at each other for maybe ten seconds while I slowly pulled a phone from my pocket to take a photo. I should have hit the shutter at the first opportunity. Instead I tried to neatly center the image, zoom in and get a perfect shot. Naturally the critter started walking as I set the shot, leaving me desperately clicking as fast as I could, capturing a blurry fox with squirrel. You'd think I'd learn.
---
Ferry, Ferry Quite Contrary
I like ferries. Longtime 12MC readers already know that. This particular trip offered multiple opportunities.
The Chappy Ferry on Martha's Vineyard was particularly memorable because it was an unusual example of a ferry requiring another ferry. First people needed to get to Martha's Vineyard on a ferry then those wishing to travel onward to Chappaquiddick Island needed to take a second ferry(¹), the Chappy Ferry's "On Time III" boat (map). Also notable was its duration, all of maybe 30 seconds. In fact, my YouTube video showed pretty much the compete route in its entirety. One had to appreciate the simplicity of the solution, going back-and-forth all day long carrying three cars at a time across a narrow channel. It was more romantic than a bridge, I supposed.
We took two other ferries during our adventure, both departing Hyannis on the mainland using Hy-Line Cruises. One involved a round-trip to Nantucket and the other a round-trip to Oak Bluffs on Martha's Vineyard(²). We chose Hy-Line because it made visiting both islands on back-to-back overnight stays a little easier. We didn't have to worry about getting to different mainland ports. I admit that it was a bit of an odd scheme contrived solely so that I could add to my county counting list. Nantucket was it's own eponymous county. Martha's Vineyard plus a few nearby islands formed Dukes County. I felt I had capture both counties on this trip because I wasn't sure when I might be back that way again.
Hyannis Harbor
That created a minor time dilemma. We disembarked at Hyannis after the Nantucket round-trip and then had four hours to kill before catching the ferry to Martha's Vineyard. We ate lunch at the harbor. OK, we still had three hours. Fortunately the Cape Cod Beer brewery was a short drive away. Problem solved.
I noticed a Cape Cod Beer truck loading the Martha's Vineyard ferry when we returned. I really liked the photo. I should probably send a copy to the brewery.
---
Beer Me
Cisco Brewers
I'll stick with the brewery theme for just a moment. I also count breweries and brewpubs I've visited. The total now stands north of 300. We didn't add as many breweries as we've done on some other trips although we did visit a respectable five. In addition to Cape Cod Beer we stopped at Cisco Brewers on Nantucket, Mayflower Brewing Company in Plymouth, Offshore Ale Co. on Martha's Vineyard and Coddington Brewing Company, in Rhode Island. Not bad.
I have a few stories that I'll gladly share in person over a pint someday.
---
12MC Sees Geo Everywhere
Nantucket Water Meter
Maps always seemed to be on my mind even when I'm supposed to be relaxing on vacation. The only greater significance of that statement related to my unnatural interest in Nantucket water meters. They featured maps of the island. It took me awhile to fine one worth photographing. Let's just say it became an obsession and move along to another topic.
---
My Digital Fingerprints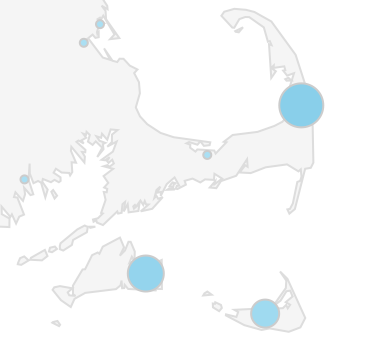 That Was Me
I've also never missed an opportunity to scour Google Analytics for unusual 12MC readership trends. My real-world adventures created the pattern on this image! That happened as a result of my back-to-back trips to Nantucket and Martha's Vineyard. I pinged the site from Nantucket in the morning and Martha's Vineyard in the afternoon. That was the first time 12MC ever received hits from both of those islands on the same day. I'm easily amused.
And let me digress back to County Counting while I'm thinking about it. I also captured the final two counties in Rhode Island that I'd never visited previously. Newport County was a great capture. We stayed overnight in Newport and that counted extra in my mental categorization. Plus it was my first overnight trip ever to the state of Rhode Island so that made it doubly special. Bristol County was a lesser capture. I merely crossed the border then did a U-turn, traversing Bristol for probably less than a minute. It still counted! Now Rhode Island could be listed as completed on my scorecard along with Delaware, Maryland and Connecticut (a.k.a. "easy ones"). I know, Rhode Island doesn't technically have self-governing counties anymore. I still count them.
---
Urban Exploration
Fort Revere Park
Most people probably visited the ruins of old Fort Revere in Hull (map) to see the fortifications themselves. I did that too. That was great. I also enjoyed walking through the underground tunnels within the fort to view graffiti. My wife rolled her eyes. I'm used to it.
---
Islands and Cape articles:
---
(¹) I suppose one could also fly to Martha's Vineyard although I still preferred the double-ferry option.
(²) The triangular route beginning at Hyannis which included a direct link between Nantucket and Martha's Vineyard would have been more efficient. Unfortunately that option only operates during summer months and wasn't available during my trip.
Under
Island
,
Miscellaneous
,
Nature
,
U.S. Counties
,
Water
| Taged
Cape Cod
,
Chappy Ferry
,
Ferry
,
Fox
,
Google Analytics
,
Graffiti
,
Hy-Line Cruises
,
Hyannis
,
Martha's Vineyard
,
Massachusetts
,
Nantucket
,
Provincetown
,
Rhode Island
---