Iceland is a country of barely 300,000 people with two-thirds of them living in the greater Reykjavík area. That makes for wide open spaces interspersed with small, scattered settlements across the remainder of this island nation. It also results in some of the most amazingly detailed road signs imaginable.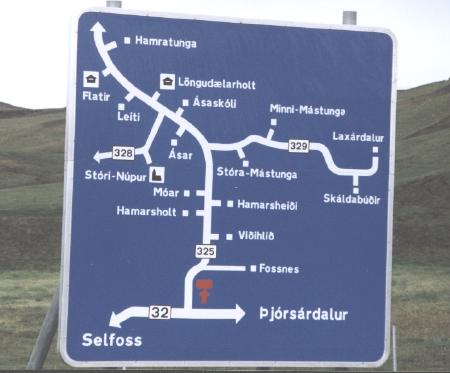 I took this photograph on a trip to Iceland several years ago. Another great example can be found on Wikipedia's Road Signs in Iceland page.
The rectangular shape with white border and text on a blue background indicates that it's an informational sign. Signs of this nature are common at turnoffs from Route 1, the Ring Road that circles the island and connects many important towns, as well as from other major roads. Notice how much it conveys. It shows an entire road network emanating from this spot, complete with curves, turns, auxiliary roads and towns further down the road. Each homestead, hamlet, church and lodge is named by word or symbol. There's even a red "you are here" indicator that provides the proper orientation and direction. A motorist facing this sign can rely on it to travel safely to the doorway of whomever they might want to visit.
If you want to get to the church at Stóri-Núpur, no problem, just bear to the left at the Y intersection, turn left on 328, then left again at the first driveway. Want to visit your buddy at Hamarsheiði? Third exit on the right.
A road sign of this nature would only be feasible within a small, stable, affluent population. That's pretty much Iceland in a nutshell.
---