Mountainous roads climb to great heights in the western United States. But which one climbs the highest? As with many topics on Twelve Mile Circle, the answer depends. Does the road have to cross a mountain on the way between two points or can it stop at a dead end at the top? Does the quality of the road matter? Must it be a highway or can it be a rugged gravel path? Each slice produces a separate answer. I have chosen to highlight the highest contiguous, paved highway.
View Larger Map
Within that definition the answer is Trail Ridge Road, a leg of U.S. Highway 34 running straight through the heart of Rocky Mountain National Park. It doesn't stop at the top of the ridge. Rather it runs for 48 miles, connecting Estes Park and Grand Lake, Colorado. At its highest point Trail Ridge Road reaches 12,183 feet (3,713 meters), just east of the Alpine Visitor Center between the Gore Range and Lava Cliffs overlooks.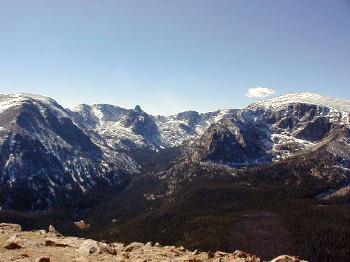 Much of the road climbs well above the treeline, with amazing unobstructed views of Rocky Mountain summits on all sides. It can be somewhat disorienting when one stops at an overlook and begins to walk along the trails. It takes a little while to get acclimated to the altitude and physical exertion only accentuates the problem. When I visited several years ago I soon became lightheaded, dizzy and irritable thanks to oxygen deprivation.
I do have more information and photographs about my travels along Trail Ridge Road on my permanent website, for those of you who may be interested.
Under
Elevation
,
Roads
,
Terrain
| Taged
Alpine
,
Estes Park
,
Gore Range
,
Grand Lake
,
Highest Road
,
Lava Cliffs
,
Oxygen Deprivation
,
Rocky Mountain National Park
,
Rocky Mountains
,
Trail Ridge Road
---