I figured I'd have to give this article a sneaky title or nobody would read it. Once again I decided to focus a portion of my journey on local breweries and brewpubs found along our route. These posts tend to underperform as some of the least popular items on Twelve Mile Circle. I know that because I review the access logs. Unfortunately this activity also tends to be one of my favorites. It's my website so I write about what I enjoy. Feel free to come back in a few days if this doesn't interest you. I won't take it personally. There will be plenty of geographic goodies as the rest of the series unfolds.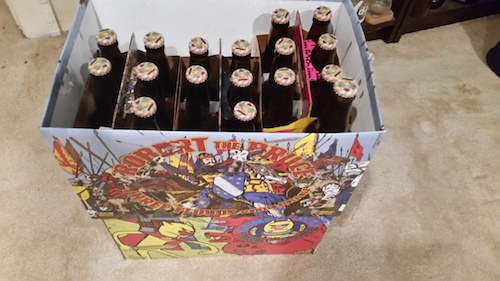 It will have to do.

Now, back to the title. How could Memorial Day possibly mess things up? After all, it existed for such a noble purpose, to remember those who gave their lives during military service to the country. Lots of businesses closed for the holiday as a sign of respect.
I'd been planning to visit 3 Floyds Brewing for several years. It was one of those iconic names in brewing circles, a place of beery pilgrimage, renowned for its craftsmanship as well as for its famous Dark Lord Day. Finally my path brought me within striking distance of Munster, Indiana and the famous brewery. On Memorial Day. The only day that fit into our schedule. Of course it was closed. Our stop at a nearby liquor store so we could load up with a couple of cases of 3 Floyds' signature beers to take back home served as a sorry substitute. I'll make it back to Munster again someday, mark my words.
---
My 400th Brewery
Longtime 12MC readers already knew many of my idiosyncrasies. Not only did I like breweries, I liked counting things. Naturally I've recorded all of my brewery visits both with a list and on a map. I'd been approaching my 400th visit for awhile and I finally crossed the threshold at the first brewery we visited during the trip. That honor went to Father John's Brewing in Bryan, Ohio (map). I enjoyed the setting, in the basement of a former Methodist church built in 1895. We also glanced into the sanctuary on the main level. It looked pretty much like a typical church although with pews removed and a bandstand installed.
Bryan seemed like an unlikely destination, tucked away in the northwestern corner of Ohio. The first race in the series place there on a Sunday morning so that's how we found ourselves in a decommissioned church on Saturday evening. However, Bryan did have a couple of tenuous claims to fame. Spangler Candy, known for its Dum Dums lollipops, ran a factory in town. Dum Dums brought back childhood memories of Halloween trick-or-treating. We didn't take the factory tour because they closed on the weekend, though. I started to sense a theme.
Remember Etch A Sketch? Those came from Bryan too, as a reader who followed the 12MC Twitter account informed me. The Ohio Art company started making them in Bryan in 1960. However they sold their Etch a Sketch brand in 2016 to focus on their metal lithography business.
---
LaOtto Brewing
Many of our adventures offered at least one unexpected brewery surprise. LaOtto Brewing in LaOtto, Indiana (map) served that purpose on the Heartland trip. The town of LaOtto didn't have much, just a few quiet blocks along Old State Road 3, bypassed to the east by a highway heading towards Fort Wayne. We'd been driving all day collecting previously unvisited Indiana counties and it seemed like a good time to stop for a break. Craftbeer.com said we could find a brewery in LaOtto so we pulled over. It turned out to be a nice place with a friendly, informative staff. We also got a suggestion to visit Shoreline Brewery in Michigan City, Indiana to try their Big Bella Heavy Scotch Ale. I'd already planned to visit Michigan City the next day so fate looked like it might work out for us for once.
I never uncovered the etymology of the town's name so that remained a mystery. Apparently a local Lutheran minister suggested LaOtto in 1875 because nobody liked the previous name, Simonsville. Was it a biblical reference? I don't know.
---
Shoreline Brewery
I wanted to visit the lighthouses in Michigan City, and I'll talk about those in a future article. Shoreline Brewery sat practically within walking distance of both of them. Memorial Day didn't stop Shoreline from opening, as I noted for the record, not that I'm bitter or anything. No, not me. I know, I need to put things in perspective and get over it.
We found our Big Bella Heavy Scotch Ale offered for sale in take-home bomber bottles. The brewers aged each batch in bourbon barrels for a year prior to bottling it. They also offered several vintages. I've maintained a cellaring program in my home for quite awhile so I thought this would be a fine addition to my collection. We asked about the years available and they listed bottles going all the way back to 2010. There wasn't any price difference between vintages either. That was a no–brainer. Someone already aged it for me? Of course I went for the 2010. It will be fine some winter evening a few months from now.
---
And the Rest
We collected a total of eight breweries and brewpubs during this trip. I'm sure I could come up with stories about the remaining five although I've run out of space so I'll simply list them here.
Mad Anthony Brewing; Ft. Wayne, Indiana
Byway Brewing; Hammond, Indiana
Tangled Roots Brewing / Lone Buffalo Restaurant; Ottawa, Illinois
Green Tree Brewery; Le Claire, Iowa
The Brew Kettle; Strongsville, Ohio
I'd call that another successful tasting adventure.
---
Articles in the Heartland Series:
See Also: The Complete Photo Album on Flickr