Here we go again! I just finished a drive through the Midwest, all the way out to Iowa and back, and returned on Saturday. We didn't stay anywhere for very long and kept moving most of the time. We also stayed in different hotels seven of the eight nights, and covered about 2,200 miles (3,500 kilometres) all told. Readers who enjoy Twelve Mile Circle's road trip adventures will like the next several articles. The rest of you may want to return in a couple of weeks instead.
The Route and the Count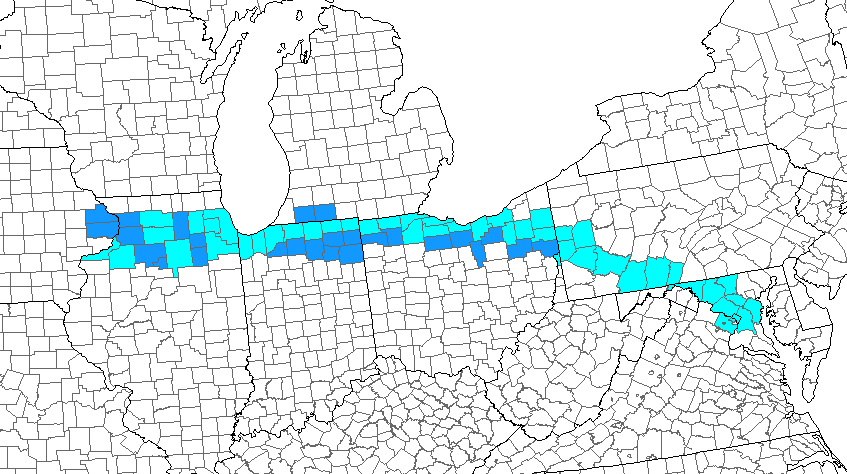 The Route. New Counties in Dark Blue

A simple map might be the easiest way to describe my trip. It seemed like a fairly straightforward route although I threw in a few twists to increase county counting opportunities. Light blue counties represented those I'd visited before. Readers with discerning eyes probably figured out the rationale of those earlier visits already. Major interstate highways ran through them, specifically the Pennsylvania, Ohio and Indiana turnpikes. My new captures, those marked in dark blue, represented efforts to shave off the next level of counties towards the south as well as fill in a couple of troublesome doughnut holes.
The revised tally reached 1,416 counties as I finished the trip. I also broke the 45% barrier of United States counties visited. I'm not sure if the results encouraged or depressed me though. I started doing a little math. My 1,000th county visit happened in June 2009 during a trip along the Great River Road. That's when I crossed the border into Crawford County, Wisconsin. I should finish in about 35 years if I keep going at that pace. It's doable although I'll be really old when I'm done. I think I need to speed it up. Nonetheless, I managed to pick up 26 new counties on this trip and I'm proud of my effort.
---
There for the Races
New county captures served as a nice side benefit although they weren't the primary purpose of my drive. Once again, the trip involved a Mainly Marathons event, this time the Heartland Series. We've done several of these before as I've recounted in previous 12MC articles (i.e., Dust Bowl, Riverboat, Center of the Nation, New England). This time things went a little differently. We participated in only four of the seven races because my runner didn't need the other three states on a quest to finish a race in all 50. That's how we found ourselves in Bryan, Ohio; Portage, Indiana; Fulton, Illinois; and Clinton, Iowa. We skipped the Michigan race and headed into Indiana to capture more counties instead, and later went home after the Iowa race, missing events in Wisconsin and Minnesota.
I did things a little differently too. In the past I'd often been happy to stand on the sidelines while my runner finished a half-marathon each day. Most people selected the full marathon option and a few hearty soles selected the ultra-marathon. That made me feel downright lazy so I started doing some of the 5k's. I did that again during most of the Heartland series. However, I also got talked into running a half-marathon for the Illinois race. I did pretty good for an old guy and I finished my first ever half-marathon at 1:53:29.
Now, however, I knew I could do better because I used all of the excuses. I'd never run that distance before, I had tired legs from races over several previous days, the course included a lot of hills, the wind blew pretty hard, and so on. Is this how addictions begin? I may try the occasional half-marathon in the future although I don't have any plans to go overboard with the seven races in seven states in seven days thing.
---
Experiencing Nowhere
The drive didn't follow a straight line all of the time. I also deviated for specific geo-oddities. For example I got to experience the Highway to Nowhere in person. I stumbled across a reference to it several years ago and featured it in a 12MC article. Feel free to check that one out if you want to learn how a town with fewer than 800 residents got its own interstate highway to its doorstep. The map showed it clearly; Interstate 180 appeared as an L-shaped spur south of Interstate 80 in central Illinois. Supposedly fewer than 2,000 vehicles per day used this highway. I drove its full length of course.
On my side of the road, along the entire distance, I saw only one car and one truck. The car passed me, doing something considerably faster than the posted 70 miles per hour.
---
A Tripoint Too
I also wanted to go a little out of my way for a state tripoint. It would be such a tragedy to drive within a few miles of such a spot and fail to reach it. So we deviated down a gravel road for this important oddity and stopped there for a few moments. It seemed only fitting to stand upon the singular spot where Indiana, Michigan and Ohio all joined together (map). Tripointers called the marker INMIOH in the naming shorthand they liked to use.
Although where might it be, exactly?
There seemed to be some controversy on the Intertubes. Did it fall within the middle of the road or off to the side a few feet farther east? Adherents seemed to take sides. I decided to go with Jack Parsell's Tri State Corners in the United States. I've used that source plenty of times before and it generally seemed to be the most accurate. It stated that surveyors in 1999 placed a commemorative metal plate within a small crypt about a foot below the road surface, covered by a protective steel cover. Dutifully, I put my foot up to the cover to touch all three states simultaneously.
Then, to hedge my bets, I also found the broken stone marker on the downward-sloping eastern embankment. Some people said that this spot actually marked INMIOH. However Parsell and others claimed that it was merely a witness post. Before something cut it down to a nub it once said something like, hey the tripoint is in the middle of the road. Anyway that's what the old-timers said. I found those explanation more convincing than the counterarguments. That didn't stop my from taking a picture of it anyway "just in case."
This seemed to be one of the lamer tripoint I've seen during my wanderings. I've hiked to other tripoints in much more obscure locations that put this one to shame. Sure, it fell within the middle of the road although someone should make a nice roundabout there with a better marker as its centerpiece.
---
Articles in the Heartland Series:
See Also: The Complete Photo Album on Flickr
Under
Borders
,
Distance
,
Roads
,
U.S. Counties
| Taged
County Counting
,
Heartland
,
I-180
,
Illinois
,
INMIOH
,
Interstate 180
,
Mainly Marathons
,
Road Trip
,
Tripoint
---