We're heading out on another epic road trip, this time across the southeastern United States, a distance of about a thousand miles (sixteen hundred kilometres), a good bit longer than even our drive to Maine last Summer. Our route takes us on a nice curve from the Mid-Atlantic down to the Gulf Coast, through Virginia, North Carolina, South Carolina, Georgia, Alabama and Mississippi, covering the heart of the Confederacy.
View Larger Map
I haven't driven to the Gulf Coast in many years. I'm looking forward to seeing springtime blossom before our eyes as we push further south, while watching deciduous forest give way to pine. You may be wondering about the southerly swing through North and South Carolina. It would be more efficient to take Interstate 85 to Atlanta heading southwest rather than Interstate 20 traveling west. I could say it's because I want to avoid major cities along I-85 including the Triangle and Charlotte, but that would be a lie. Maybe that's a small part of the reason but that's not the primary one.
View Larger Map
Actually, by swinging down to I-20 I can trek along some Virgin Highway that I've never driven before, from Florence, South Carolina to Atlanta, Georgia. That includes fourteen new counties to add to my lifetime County Counting list. If you are a kindred County Counter or at least a sympathizer you will understand intrinsically what this means. If not (e.g., the entire rest of my family), you'll roll your eyes and go along with it after I explain that it adds only 49 miles to the journey. It's OK. They know it's one of my quirks and they've grown to accept it. I can plug the kids into a Nintendo DS and they won't even notice as we glide along at 75 mph.
The airlines have shot themselves in the foot at least with my family. We've concluded that we'd rather not reward their lack of customer service for trips of a thousand miles or less. We've visited family on the Gulf Coast dozens of times over the years, always flying in to New Orleans. That may not happen again, or at least not until the airlines halt the war they've declared on their passengers.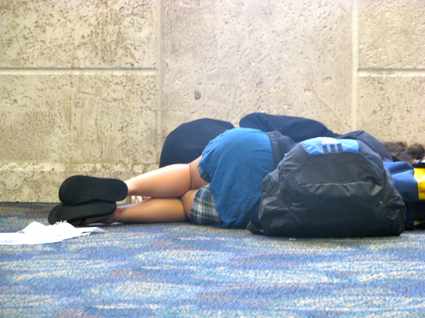 This is what happened to us when we traveled to the Florida Keys last year for Spring Break. We got trapped at the Fort Lauderdale airport for nine hours waiting for a replacement part for our airplane. We could drive halfway home in nine hours (that's when it dawned on us). Meanwhile multiple flights to our home destination departed during the same time period but we couldn't get on any of them because they'd all been overbooked. We were almost forced onto a bus for a two hour drive to another airport to catch a flight departing from there, and that's what would have happened had the part not belatedly arrived.
If that were an isolated example I'd overlook it and write-if-off as "one of those things." Unfortunately it seems to be increasingly prevalent and a standard operating practice for many airlines. Throw in the nonsensical levels of security screening and the nickel-and-dime money grubbing for baggage, snacks and pillows, and they've created a climate where I no longer want to fly unless it's absolutely necessary.
So long airlines. Give me a call when your business model runs a few of you out of business, and those that understand customer service replace you.
---