This is Matildaville. Little remains of this early 19th Century settlement built to serve the "Patowmack Canal" in what is now Great Falls Park on the Virginia side of the Potomac River.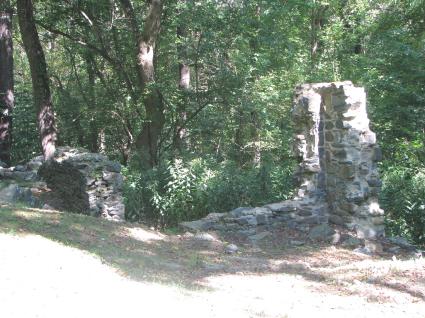 ---
One of these days I'm going to get around to writing up my visit to Great Falls Park last summer and add this to my permanent website, Strange Geography, so consider this photo just the first installment. But that's besides the point.
I got on a tangent as I researched my recent story on Aurora, Nevada, a ghost town that once served as a county seat in two states simultaneously due to uncertainty over conflicting boundary surveys. I lost a couple of hours after I stumbled across an enjoyable site that I'd like to share with you: Ghost Towns and History of the American West. This website has apparently been around for a decade or more but somehow I'd never manged to run into it until now. I'm not sure how often it's updated — it has sort of an old-school feel to it — but the forums are active and current.
I found the number of ghost towns identified to be rather surprising, and I certainly enjoyed reading through a good number of the entries. While the site concentrates on the American West, it also contains materials for other locations throughout the United States as well as Canada. I'd expect abandoned towns in places like Arizona, but in Rhode Island? Yes, practically everywhere there are ruins waiting to be discovered, visited, or documented.
The little town I mention above is not covered yet. Maybe I'll have to do something about that.
---