I'm in New Orleans, Louisiana this week. Unfortunately I'm not here for a family visit this time, but purely for business. That means I haven't had much of an opportunity to get out into the city. I'm spending long days in a hotel meeting room during the day and then more hours in the evening catching-up with all my other work that continued to collect during daylight hours. I do manage to get out for a little while at points during the day and evening so don't feel too sorry for me: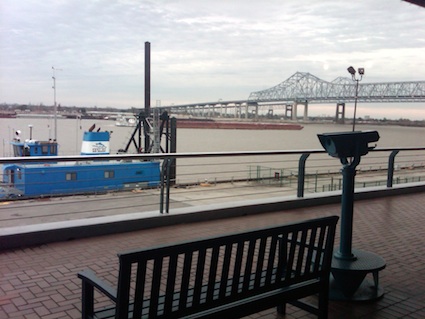 See, here's an instance where I found time to grab lunch along the Mississippi River at the Riverwalk Marketplace and got to watch barges and the Algiers Ferry pass hypnotically for about an hour. I've taken a ride on that ferry before but today I'll have to be content to be a spectator.
The bridge in the distance is the Crescent City Connection that leads to one of my favorite geo-oddities and trivia questions, where west is east. I have fond memories of many places in New Orleans from the dozens of times I've returned here but not the memories of a typical tourist, albeit I have a few of those from days when I was younger and more rambunctious. I'm too old to deal with hurricane hangovers anymore.
Oh, and to the person who turned off the heat in New Orleans: please flip the switch back on. I didn't come all the way down south to experience temperatures barely above freezing. I can get plenty of that back home. Thank you.
I've noticed a wonderful development during this trip. My employer has finally rolled out a completely-functioning and integrated Voice over IP network throughout our organization. We've at long last hit a tipping point — probably something you experienced years ago but my employer is a bit behind the times so please bear with me — and literally it no longer matters where I sit physically to do my job. We're already teleworking regularly and it's only It's only a matter of time before they take that next logical step and close those redundant office buildings.
Don't get me wrong, we've been very close to that standard for a long time, but the final tools have been turned on and my laptop completely replicates my office setup in every respect and detail. Nobody can tell if I'm sitting in my office or at home or in a hotel, or on the dark side of the moon. It's completely invisible. Most of my peers work hundreds of miles away as do most of my direct reports. It's still important to get together face-to-face occasionally to hash out important issues and develop personal working relationships, which is why we're in New Orleans this week, but that's just one of many tools available to make an organization run.
That's what I mean when I say that geography has collapsed. It still has all of its original glorious meaning for every other purpose in my life, but no longer for my employment situation.
My grand plan has long been to someday sell my house, buy a bus-sized recreational vehicle, and county-count until I collect them all. What has changed is that I wouldn't even have to quit my job to do that. I'd just need a laptop and wireless Internet connectivity — which I already have! Now I just need to convince my wife to go along with the plan. That, unfortunately, is where the strategy comes to a screeching halt. At least for now…
It's only a matter of time.
---