I've noted my appreciation for reader comments, suggestions and input, on many occasions. The quality of what people contribute is nothing short of miraculous. Sometimes an example lodges in my brain to the exclusion of all the rest. That's what happened with the Gaithersburg Doughnut Hole and I don't know why. It's not any more elaborate or unusual than other geo-oddities contributed by viewers. I'm fixated though and I can't resist it. I needed to learn more.
Reader "Matt" submitted a comment on the recent Arapahoe Exclaves in Denver article. He focused on Ohio but then he said, almost as an aside, "Also, Gaithersburg, Maryland, looks like a doughnut with a big hole in it."
I set-aside thoughts of Ohio for some future article and focused my energies on Maryland. Maybe it's because I like doughnuts, or is it spelled donuts? I think both variations are supposedly acceptable. Or maybe because it's just around the corner from where I live? Either one is equally likely.
Gaithersburg, Maryland is a suburb of about 60,000 people located towards the northwest of Washington, DC, outside the Beltway along Interstate 270.
View Larger Map
The various online maps do not provide decent municipal boundaries so other sources had to be consulted in order to appreciate Gaithersburg's remarkable doughnut-shaped configuration. I never doubted its existence — the readers of the Twelve Mile Circle demonstrate my woeful ignorance daily — instead I wanted to determine its exact shape and reason for being. The City of Gaithersburg's official zoning map provided plenty of plausible explanations for both… well, mostly.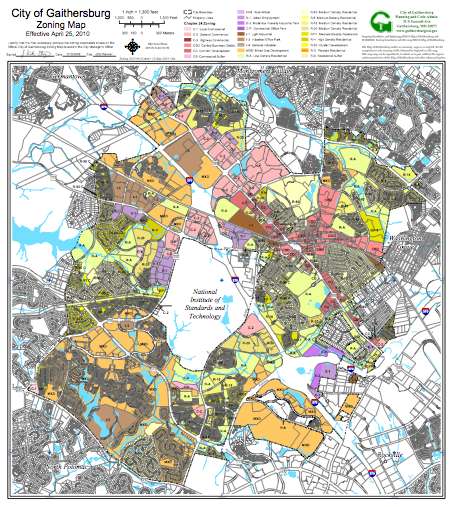 SOURCE: City of Gaithersburg

The preponderance of excluded interior territory has a single owner, the United States federal government. It's the sprawling headquarters campus of the National Institute of Standards and Technology, or NIST. Wikipedia thinks that NIST is headquartered in Gaithersburg but they're wrong. It's a sham. Gaithersburg gets all the prestige of NIST but it's actually within an unincorporated area of Montgomery County completely surrounded by the city. In their defense it does have a Gaithersburg mailing address.
I'm not an expert on taxes but I believe it would be difficult if not impossible for a city to impose a real estate tax on a federal government entity. Keeping NIST "outside" of Gaithersburg would seem to make good economic sense if that's the case. The city wouldn't have to serve a group that doesn't pay them taxes in return. It wouldn't be logical for them to give their services away for free.
There is another area of the doughnut hole that isn't part of NIST, however. It's a small triangle of land defined by I-270, Muddy Branch Road, and West Diamond Avenue.
View Larger Map
The triangle seems to include a number of large apartment buildings with a few single-family residential units on the periphery. Businesses contribute more to the tax base than residents. Excluding a few high-density dwellings collocated with the NIST tract would benefit the remainder of the city. Apparently that's exactly what they've done.
Mmm… donuts. Apparently that IS the fixation. My apologies to Homer Simpson — it's not the only trait we share in common.
Under
Borders
,
Cities/Towns
,
Government
| Taged
Beltway
,
Donut
,
Doughnut
,
Gaithersburg
,
Homer Simpson
,
I-270
,
Interstate 270
,
NIST
,
Zoning
---