I'll start off by saying that there's a special place in heaven for those who leave unsecured wifi connections open and available for public use. I thought I'd be totally disconnected from the outside world except for an occasional traipsing down to an Internet cafe but for an unknown Good Samaritan. Thank you stranger, you've allowed me to remain connected this week while I'm on vacation. We're in Florida's southern Keys with the extended family, soaking up some perfect weather while I understand it's been below freezing back home.
As usual, these vignettes will provide an overview of what I've seen so far, with permanent more comprehensive pages to come later.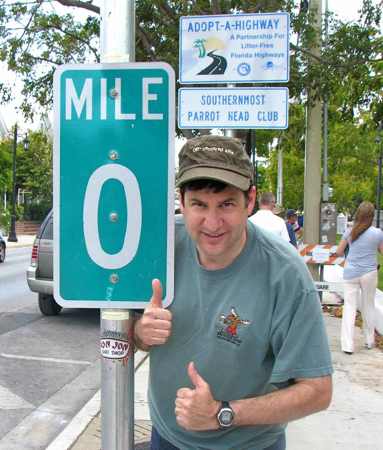 Zero at Zero
No geo-weirdness blog would be complete without a stop at the Zero Mile marker for U.S. Route One. I call this my tribute to CT Museum Quest and Prullmw., two sites that regularly read and post comments here on the Twelve Mile Circle. See how I combine trademark elements of both sites into a single image? My wife said she understood the photo of the mile marker because I'm always taking pictures of strange things like this but she wanted to know what was up with the two thumbs thing. I tried to explain but I think it fell flat.
Everyone takes this photo or so it seemed. But how many people then walked a few yards further down the road to record the geodetic survey marker in front of the Monroe County Courthouse? Oh yes I did. It generated some pretty odd stares from passers-by as well as from the in-laws. I'm sure they're now wondering what their daughter got into and whether their grandchildren are being raised correctly.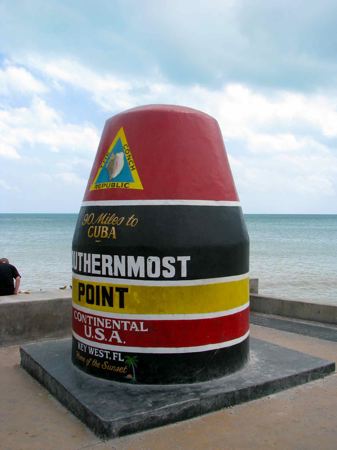 The Fake Southernmost Point in the Continental United States
I continued my walk down along Whitehead Street to the so-called "Southernmost Point" buoy. Can we all agree that since we know enough about geography to be reading this blog that we all know it's not really the southernmost point in the continental U.S.? It's debatable whether an island can be considered "continental" in any case, but if it can there's another key even further south than Key West. Heck, there are even spots on Key West further south than this. All of that misses the point, though: it's a fun diversion. Hiking down here may be the only opportunity some people find to get off the beach or bar stool to get some exercise. Let's cut them a little slack.
I found it's popularity rather odd. Why were the crowds missing at genuinely interesting places like the 45X90 spot where my family and I stood alone alongside a rural cornfield? Here in Key West it looked like there was a half-hour long line just to get a picture at some meaningless buoy, something I was not willing to do for a fake anything. I had to snap quickly between family groupings just to get an image without people in it. I hate people in my photos.
At the very least, the Southernmost Point in Florida
Here's the real southernmost spot: Ballast Key. I'll let you decide what it's the southernmost of, but at the very least of Florida. It's also the only inhabited location in the Key West National Wildlife Refuge. Today this would never be allowed but obviously it was authorized previously and a Key West developer named David Wolkowsky built his home here. You can read all about it on the inevitable Wikipedia page. He's invited a number of celebrities to this subtropical paradise and I find it both amusing and ironic that the Bee Gees and Gloria Estefan have touched this southernmost point and I have not. I wonder if they realized it?
Anyway, I snapped that photo of Ballast Key on the way to…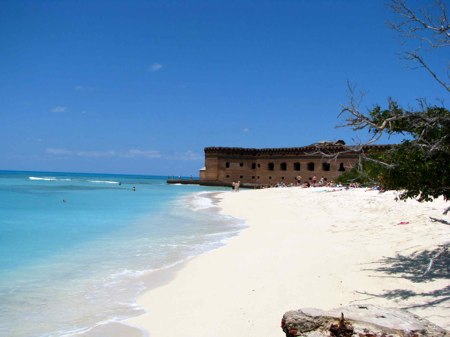 Fort Jefferson at Dry Tortugas National Park
I've been looking at maps since I was very young and for most of that time I've wanted to visit the Dry Tortugas. Yesterday that dream finally came true. It involved a two and a half hour boat ride from Key West covering nearly seventy miles of open water to reach this most remote of National Parks. The centerpiece is Fort Jefferson, a coastal fortification built in the mid-nineteenth century to control the Straight of Florida and protect trade routes to American cities along the Gulf of Mexico and up the Mississippi River. It's strategic importance cannot be underestimated.
Most people, if they've even heard of it, associate the Dry Tortugas with the imprisonment of Dr. Samuel Mudd. He was the Maryland physician who set John Wilkes Booth's broken leg as he fled after assassinating Abraham Lincoln. Dr. Mudd served nearly four years here in a cell in Ft. Jefferson for his role in the conspiracy. What an amazingly remote place to be exiled.
Hmm… an island, a coastal fortification, a lighthouse… if there'd have been a brewpub I would have signed up for a stint in the National Park Service!
See my Fort Jefferson page, Dry Tortugas Ferry page and Garden Key Lighthouse page, each with more photos and short videos.
The adventure continues in Part II.
Under
History
,
Island
,
Water
,
Weather
| Taged
Ballast Key
,
Dry Tortugas
,
Fort Jefferson
,
Key West
,
Monroe County
,
mudd
,
Southernmost Point
,
Zero Mile
---