Crawford Notch, and its primary community Hart's Location, form an 11 mile by 1.5 mile protrusion outward from the northwest corner of New Hampshire's Carroll County (see my previous entry on the irregular borders of Carroll County). It is no vestigial appendix however, providing an important passageway through the White Mountains as it wriggles its wasy along the upper Saco River valley. Early explorers and settlers, then railroad barons, and later automobile travelers all coveted this steep gorge, finding it an efficient passage through tough terrain.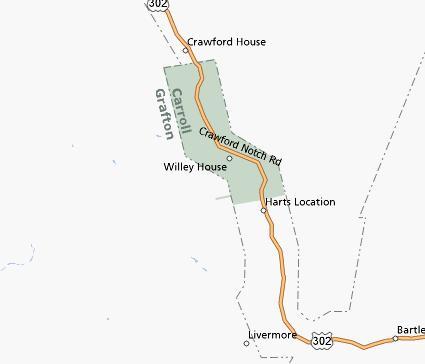 The gorge is more than just a geographic oddity, however. It's also a political oddity. When New Hampshire presidential primaries and general elections take place, the residents of Hart's Location compete with other small towns such as Dixville Notch in a race to cast the first ballots. New Hampshire law prescribes polling hours but when every registered voter in town casts a ballot before the official closing time, the town can legally close its polls and announce results. That's not a difficult feat for Hart's Location and its 40 residents. It's something they've done frequently since beginning the tradition in 1948. MSNBC even published a story about this during the 2004 presidential election cycle.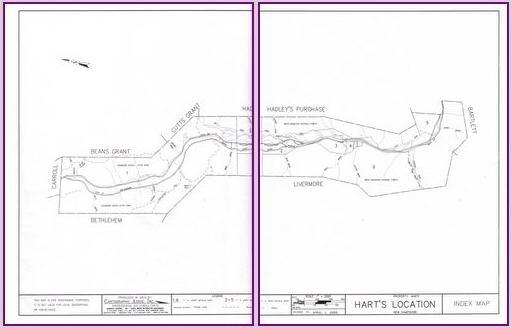 Hart's Location was once truly a "Location", a designation used in New Hampshire to describe an area of limited self-government that is not part of an established town. Today, however, Hart's Location is incorporated and has the distinction of being the very smallest of the state's 234 towns and cities.In addition to its renown as a strategic passageway and a political bellwether, it was also the site of an historical event known as Willey's Slide. Sam Willey and his family died in an 1826 landslide after they left their home in an attempt to seek more protective cover. Ironically their home was spared. This is a geography blog not a political blog so I'll leave that thought for others to ponder as the elections approach.
---
UPDATE January 8, 2008: The Associated Press is reporting this morning that Obama and McCain have carried Hart's Location. "In Hart's Location, Obama received 9 votes, Hillary Rodham Clinton 3 and John Edwards 1. On the Republican side, McCain received 6 votes, Mike Huckabee 5, Ron Paul 4 and Mitt Romney 1."
---
Source for County Boundary Map: Mapquest.Source for Hart's Location town map: The Town of Hart's Location website.
Under
Cities/Towns
,
Government
,
History
,
Roads
,
Terrain
| Taged
Carroll County
,
Crawford Notch
,
Dixville Notch
,
First vote in New Hampshire
,
Hart's Location
,
New Hampshire
,
New Hampshire primary
,
Saco River
,
Smallest Town
,
White Mountains
,
Willey's Slide
---