I faced a dilemma on the 4th of July holiday this year. I'd celebrated in style last year with a once-in-a-lifetime opportunity to view the spectacular Washington, DC show from a rooftop balcony. How could I top that for Independence Day 2010? Well, the answer is I couldn't. The only way I could improve upon that remarkable achievement would be to transform somehow into the guy who got to ignite all the fireworks.
That didn't dissuade me from having a good time. We jumped at the opportunity when friends invited us to their home for some hospitality and to see the nearby City of Falls Church fireworks display. Followers of the Twelve Mile Circle might recognize that location. The City of Falls church is an important geo-oddity that anchors a major endpoint of a wide continuum: at two square miles, it is the smallest county-equivalent geographic unit in the United States. I was going to see the fireworks in a genuine geo-anomaly! Woo-hoo! Well sort of, kind of… read on.
The City of Falls Church presented a surprisingly decent fireworks display.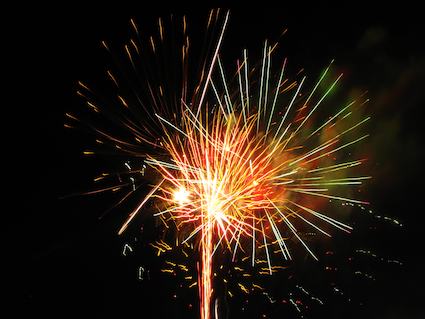 Falls Church, simply because it's the smallest, is hugely important to people who focus on county-related geographic hobbies including Counters, Highpointers and Amateur Radio Hunters. I'm a relentless County Counter myself, as are several active participants on this website. I've even highpointed a few. I've personally highpointed the City of Falls Church, which isn't much of a noteworthy achievement when someone happens to be in the area.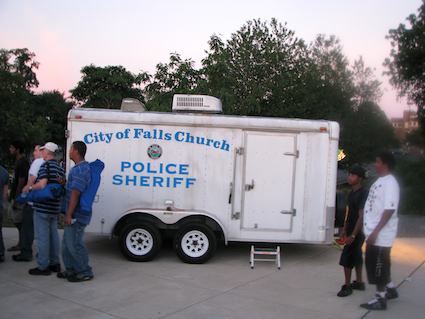 I've been within the actual borders of the independent City of Falls Church hundreds of times over the years. Still, l can't seem to pass up an opportunity to document it. Here is a police trailer owned by the smallest county-equivalent geographic unit in the United States. Jealous yet? Therapy is available for those of you who answered "yes."
We walked over from the home of our friends to the the city's only high school. Falls Church also has only a single middle school and two elementary schools. That's all they need to cover the needs of their 11,000 residents. Such is life in a two mile square. In fact, Falls Church exists as an independent entity principally because the local residents wanted local control over these schools.
The fireworks would be best viewed from the high school football field.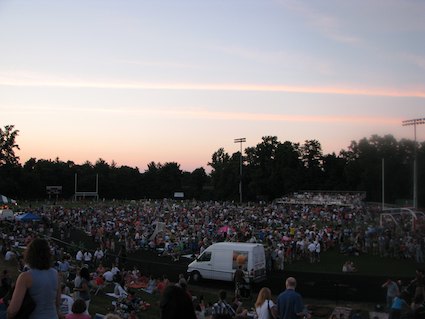 People packed densely onto the surface of the football field, spreading out blankets and filling the artificial turf from one end to another, goalpost to sideline. It seems like a huge crowd but it's deceiving. That's the entire crowd.
It's amazing to consider that several hundred thousand people were crowding the National Mall in Washington, DC, at that very moment, less than ten miles down the road. Here it seemed like small-town America, a scene replicated thousands of times across a great continent that same evening. If anything, this is the norm and the National Mall is the anomaly.
One might wonder how such a small city can sustain such an impressive display. Unfortunately it can't. There won't be a show next year due to budget cuts. It's an extravagance that hit the chopping block in a tough economy. What will I do next year on July 4?
I'm going to tell you a little secret, but let's keep it to yourselves. The City of Falls Church is so small that it doesn't have room for a high school within its own boundaries. The parcel is contiguous with Falls Church but the school is actually located in neighboring Fairfax County.
View Larger Map
I'm not sure what kind of agreement had to be struck to allow that arrangement but I think this may count as a rare and coveted double geo-oddity. Falls Church is a genuine geo-oddity in its own right and the high school is a tangential oddity springing forth from the greater oddity.
---