I revisited an old concept from a much earlier version of Twelve Mile Circle, the simple pleasure of wandering aimlessly through Google Street View. That's something I used to enjoy regularly. However, life got busier and other priorities mostly prevented that luxury in recent years. They still do, although I needed to clear my mind of a million other things as the holidays approached. A couple of hours traveling vicariously online did the trick. Plus I found some interesting places.
Simply Bustling
Google Street View covered territory in many nations albeit with notable exceptions. I wanted a closer look at mysterious Myanmar (Burma) as an example, because it remained under tight control until only recently. However Street View hadn't arrived there yet. Then I wondered if I could peer across the border from its neighbors. I began with Bangladesh. It shared a brief border with Myanmar although only a single road featured Street View coverage along the way. The road extended to the end of the Teknaf Peninsula. Naturally I lost all interest in Myanmar and fixated on that little road running to the farthest southern point of the Bangladeshi mainland.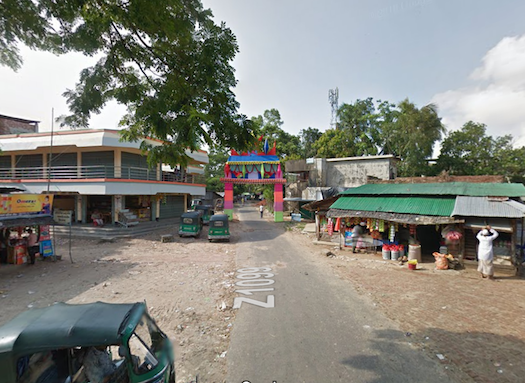 Teknaf-Shahparirdwip Road
via Google Street View, October 2015

What a road! It turned out to be a perfect place to meander, a great place for people watching. Humanity seemed to be everywhere as I followed along the Street View path. People gathered in every small patch of open space. Impossibly small roadside shops sold necessities. Animals wandered freely. I compared that with the average Western town where people hid in their homes, where public appearances limited themselves to automobiles.
In this corner of Bangladesh, the vehicle of choice seemed to be a 3-wheeled motorized rickshaw. Others made do with motorcycles, bicycles or even their own feet. A hive of activity hugged both sides of the narrow path. The Street View car must have created quite a commotion as it passed. Even so, the modern world extended all the way down here to the end of the line. A mobile phone tower in the background implied Internet connectivity. I can always hope for a 12MC visitor from Bangladesh's Chittagong Division someday. I'll need to think of a suitable prize.
---
Safer Ground
The terrain seemed extremely flat too, and perilously close to the Bay of Bengal. I wouldn't want to be around there during Monsoon Season.
Where would people go when the water rose? That wasn't idle speculation. Historically floods bedeviled Bangladesh. A 1998 deluge submerged 100,000 square kilometres (38,000 square miles), forcing 25 million people from their homes. I wondered, did Bangladesh even have land high enough to avoid rising waters? Obviously it had a highpoint. Was it good enough?
The nation actually contained a mountainous region along it border with Myanmar, much to my surprise. The hills didn't encompass a lot of Bangladesh although they certainly existed. Oddly, Bangladesh didn't have a recognized highpoint because nobody ever bothered to measure it officially. Many geographers believed the honor went to Saka Haphong in the Mowdok range (map). It reached 1,052 metres (3,451 feet) unofficially. After I got over the shock of learning that nobody really knew the highpoint of an entire nation, I figured I'd head towards Saka Haphong should I ever find myself in Bangladesh during a monsoon.
---
Dirt Road Super-Highway
China didn't have Street View either although neighboring Mongolia had a little. I followed the same process and got the same result: interesting views of Mongolia sidetracked my attempts to peer into China.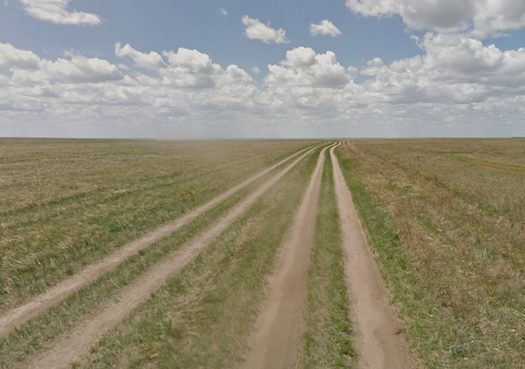 Dirt Tracks through Mongolia
via Google Street View, June 2015

I meant "interesting" as an appreciation of its scenery completely wide-open and devoid of any features whatsoever. It reminded me of the Big Sky of eastern Montana in the United States, although amplified by an order of magnitude or two. I could almost imagine Genghis Khan galloping across the steppe on horseback with his hordes.
Looking to the horizon in any direction I saw nothing, simply nothing. Just two sets of dirt tracks across grassy fields in Mongolia's Dornogovi province. I've experienced many dirt roads in my life. However, I've never seen one with TWO tracks. That implied sufficient traffic and speed to justify separate lanes. That seemed crazy. With vehicles stirring up easily-visible dust storms as they drove, with lines of sight across an endless horizon, with almost zero population or vehicles, with plenty of room to pull over and let occasional traffic pass, who would ever need to worry about a driver coming in the opposite direction? Yet, apparently it was necessary.
Under
Borders
,
Elevation
,
International
,
Roads
,
Time
,
Water
| Taged
Bangladesh
,
Chittagong
,
Dornogovi
,
Google Street View
,
Mongolia
,
Rickshaw
,
Saka Haphong
,
Steppe
,
Teknaf
---