We all have visions of the romantic Hollywood movie with a classic California scene: the vibrant sunset over calm Pacific waters. I recall a conversation I had a number of years ago with a west coast native who raved about those sunsets, and with an air of superiority remarked upon the deprived and empty lives of people from the east coast who could only experience sunsets over land. "Oh yeh," I replied, "what about this?"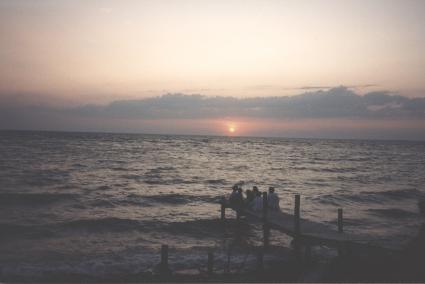 ---
This is a scene from Silver Beach, in Northampton County, Virginia. It's located on Virginia's eastern shore, the narrow sandy strip that is physically separated from the remainder of the Commonwealth by the Chesapeake Bay to form the tip of the Delmarva Peninsula. I went there each summer for a number of years to visit with some friends and enjoy a relaxing beach weekend. As anyone can plainly see, this is a sunset completely over water with absolutely no land visible out to the horizon. What's more, someone with the proper ambition could wake up the next morning, drive to the other side of this narrow peninsula, and watch the sun rise over water too. Take that, west coasties!
View Larger Map
The Chesapeake Bay is about 15 miles wide at this spot, which is clearly further than anyone sitting along the shoreline can see. Line of sight distance is described by formulas involving elevation and the curvature of the earth, as limited by atmospherics, individual eyesight and other factors. Frankly it's described a whole lot better on Wikipedia's Horizon page than what I want to cover here. Suffice it to say, someone sitting along the shore, maybe on a little sand dune for some added elevation, can see out perhaps 3 to 5 miles on a clear day. Result: sunset over water.
That's not a particularly high bar when you think about it. There must be dozens of places in the Eastern United States where this phenomenon can be experienced. I pulled out a map and came up with some candidates that are part of the mainland (offshore islands are already natural choices). I'm sure there are many more.
Big duh for obviousness
The entire western coast of the Florida peninsula along the Gulf of Mexico.
Other fairly obvious spots
The upper end of Cape Cod, Massachusetts.
Cape May, New Jersey (I've been on the other side of Delaware Bay and I couldn't see across so I imagine the reverse must be true)
Many locations along the Virginia and Maryland eastern shore of the Chesapeake Bay in addition to the example above, assuming it's a spot out of the line of sight of the mid-bay islands
Cape Hatteras and other portions of the North Carolina outer banks
The eastern shore of Lake Okeechobee, Florida
Numerous spots along the Great Lakes, including almost the entire western edge of the Michigan mitten. Bunches of spots in Ontario too, if you want to include Canada in this game.
Maybe?
Portions of the North Carolina mainland facing Albemarle Sound.
The bump on the Florida panhandle south of Panama City.
The eastern shore of some of the larger lakes in Minnesota (e.g., Mille Lacs Lake; Red Lake)
UPDATE: You might also be interested in the later entry made for the opposite condition, West Coast Sunrises over Water.
---