How does one justify a series of brewery visits within the subject matter of a geo-oddities blog? Good question. Author's prerogative? Precedence? Ultimately I considered it as a road trip; a very short and very specialized road trip. Certainly, numerous adventures from the road have been recounted on Twelve Mile Circle. I'll also avoid any actual beer reviews. That's how I'll rationalize it.
North America has been experiencing its second microbrewery wave of the modern age. As an example, the Brewers Association reported "409 brewery openings in 2012" and that "2,347 craft breweries operated for some or all of 2012." Washington, DC contributed to that happy trend too. There hadn't been a single production brewery in the District of Columbia when the Heurich Brewery — on land now occupied by the Kennedy Center — closed in 1956 until DC Brau started pouring in April 2011. There had been brewpubs (restaurants brewing their own beer for on-premise purposes) but no production breweries bottling, canning or kegging. Now the District had three breweries with more planned.
I'd not found an opportunity to visit any of the new arrivals sprouting over the last couple of years, practically in my own backyard. They seemed like easy opportunities as I approached my 300th brewery/brewpub visit. Best of all, the total distance between them was only 6.6 miles in easy alignment. I thought it would be a noteworthy way to spend a Saturday afternoon.
View Larger Map
Alcohol laws vary between jurisdictions and the District certainly has its own quirks. Breweries can offer tastings and sell growlers (half-gallon glass jugs) for off-premise consumption in DC, but they cannot sell by the drink in their facilities. The brewers also had to place a shrink-wrap plastic ribbon over the growler lid and heat it with a blow-dryer to seal the bottle. Weird. We should be thankful however because the City Counsel had to pass a new law to allow even that privilege. This quirk makes a brewery crawl to all three locations quite practical. Modest tasting sizes assure that nobody will be impaired when driving between spots. We filled the car with growlers as we ambled along on our urban brewery trail and took them home.
I plotted a precise order that was suggested by each brewery's hours. All of them opened to the public only on Saturday afternoons, one at 12:00, another at 12:30, and the third at 1:00.
---
DC Brau Brewing Company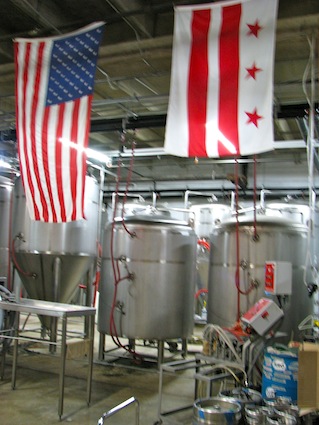 It's funny to consider that DC Brau would be the elder statesman of DC breweries when it's been pouring for barely more than two years. Nonetheless it paved the way for the others, taking the lead in persuading the DC City Council to update antiquated brewery laws that had been superfluous for nearly sixty years. DC Brau can take credit for tastings and growlers everywhere in the city.
We'd consulted their website before heading over, which turned out to be a good thing because we never would have found it otherwise (map). The brewery was located in a nondescript strip mall shopping center a stone's throw from the Maryland border and historic Fort Lincoln. One has to drive down a narrow alley in a gap between different parts of the strip mall. It's located down at the back of the building below the post office, and completely invisible from Bladensburg Road.
This was the busiest of the breweries we visited perhaps because it's the most established. It's also the only one that produced more than just kegs; they had a canning line. We enjoyed the tasting, filled a couple of growlers and moved on. We also noticed a few things that would be repeated throughout the trip: the summer style switch had already taken place (primarily lagers, saisons, triples, IPA's, DIPA's and the like); parking was surprisingly tight and there was a food truck available for brewery patrons at each location. I wish I'd known about the trucks before we left home and I wouldn't have rushed through lunch before departing.
---
Chocolate City Beer — Closed December 31, 2014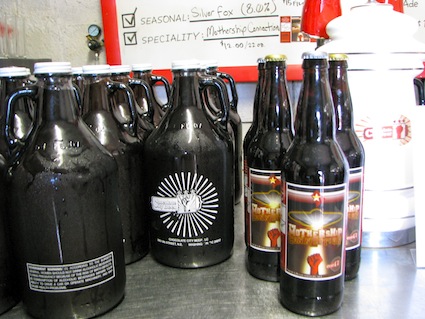 We pulled-up to Chocolate City Beer and noticed a group of about twenty bicyclists milling outside. It hadn't dawned on me but the reason soon became apparent. Chocolate City (map) stood directly adjacent to the Metropolitan Branch Trail: "an 8-mile trail that runs from Union Station in the District of Columbia to Silver Spring in Maryland… Following the Metropolitan Branch Line of the Baltimore and Ohio (B&O) Railroad." That would be a nine mile (14.5 km) bike ride from home. I could do that. Now how would I get a growler home? I'll have to think about that some more.
All three breweries were located next to railroad tracks, either the Metropolitan Branch Line or the CSX Capital Subdivision Line, as I discovered once I got home and checked my maps closer. I imagined this probably had something to do with zoning. One of the brewers mentioned how difficult it had been to find a location within the District, and apparently properties adjacent to railroad tracks fit the proper criteria for this type of business according to those who create the rules.
The name of the brewery seemingly paid homage to Parliament's landmark 1975 album and song of the same name, which in turn was George Clinton's P-Funk homage to Washington, DC. One of their specialty beers was a dark wheat ale called the Mothership Connection, building on that same theme.
---
3 Stars Brewing Company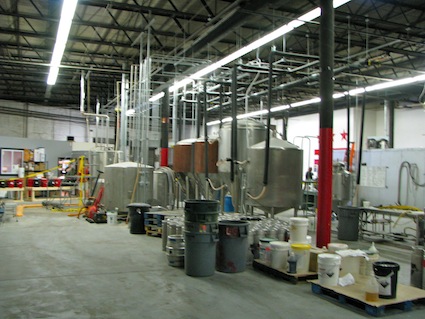 Finally we headed over to 3 Stars Brewing, (map), traveling through a lot of residential neighborhoods along the way. One sometimes forgets that Washington is a very residential city when commuting solely to the Federal core. This was a nice reminder otherwise.
The 3 stars refer to the District of Columbia flag (you can see an example in the photo at the very top of the page). I wonder if the brewers realized that stars used in heraldry — and this is heraldic as it was based on George Washington's personal coat of arms — are called mullets? 3 Stars sounds like a much better name than 3 Mullets Brewing Company. It would appeal to a completely different clientele, for certain.
3 Stars made use of another quirk of the District's alcohol laws. In Washington, DC, one can sidestep the standard three-tier distribution system and self-distribute if no established distributor handles the product. There used to be (may still be) a liquor store in the District that would famously stuff a tractor-trailer full of beer in California and self-import rarities not normally available on the East Coast. 3 Stars used the same quirk to deliver their kegs directly to taverns and restaurants, bypassing the middleman. That allowed them to maintain quality while avoiding price markups.
We returned home with six growlers (our two favorites from each brewery), invited some friends over, threw some sausages on the grill and enjoyed an unusually mild June afternoon.
Under
Cities/Towns
,
Distance
,
History
| Taged
3 Stars
,
Brewery
,
Chocolate City
,
DC
,
DC Brau
,
District of Columbia
,
P-Funk
,
Railroad
,
Washington DC
---