I received an interesting tip by email about an old street in San Antonio, Texas identified as "Damfino" (as in "Damn if I know"). He even provided a copy of an 1885 map for the online Library of Congress collection, which I've excerpted below. He theorized that the street name may have been a placeholder. The residents probably never called it Damfino in reality.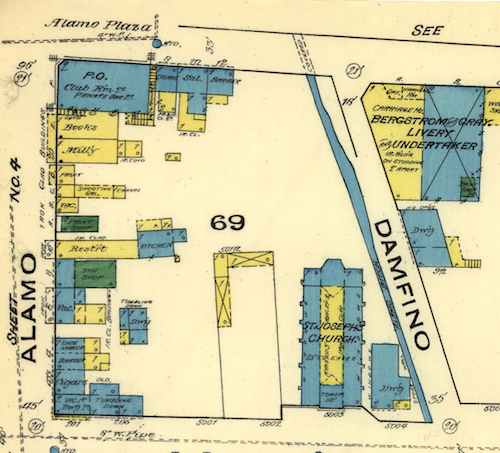 I'd identify the reader more precisely but I don't like to post personal information on the Internet without permission. If the contributor would like to post a comment I'd gladly give credit where credit it due, especially in consideration of all the fun I had with this topic.
View Larger Map
Damfino would have been on the block just south of the Alamo, adjacent to the grounds of St. Joseph's Catholic Church, and running through a corner of the present-day parking lot. The church is a bit of a spike property that never sold-out, and now finds itself surrounded by a shopping mall. I get to San Antonio on business every once in awhile and I look forward checking out the remnants of Damfino on my next trip.
The other interesting aspect our tipster mentioned is that the International Buster Keaton Society calls its members the Damfinos. The San Antonio reference actually predates that. I knew none of this until I received the email so I considered it a fine learning experience.
---
That got me thinking. Are there other geographical Damfinos? I could say "damn if I know," but that would be wrong. The answer is yes.
View Larger Map
The U.S. Board on Geographic Names lists several of them.
There once was an "old trading-point" — too small to be an actual town I suppose — named Damfino in Jasper Co., Missouri. The location was described as about six miles south of Carthage. I couldn't find the exact spot although it's mentioned on the website of the State Historical Society of Missouri.
Florida is a particularly odd situation, with a strange concentration of street names using variations on the theme.
Damifino Road at the Peace River Campground in Arcadia, Florida.
Damnfino Drive in Boca Grande, Florida (Google maps contains a typo, calling it Damifino Drive).
Damfino Lane in Riverview, Florida.
---
Canada isn't immune either.
View Larger Map
The Atlas of Canada includes a single reference, to a Damfino Creek in British Columbia. It is located just outside the boundaries of Big White Mountain Ecological Reserve, "established to set aside ecosystems representative of the Engelmann Spruce-Subalpine Fir and Alpine Tundra Zones in the southern interior."
And how about the United Kingdom? I did find a reference in Great Yarmouth but I'm not sure whether it's truly a geographic feature or simply some guy who named his house. Perhaps the UK audience can figure that one out.
---
Totally Unrelated
Do you remember the 12MC discussion about the possibility of an American Meridian Happy Hour in the Washington, DC area, about a year ago? The place we selected went out of business and I put the effort on hold. I'm pleased to report that a new restaurant is about to open in the same spot in Crystal City. Feel free to contact me if you might be interested. I'll watch for the spot to open and then we can try again.
---