"Circling Back" would be the best title for this article, implying a revisiting or rethinking of previous ideas with a connection back to Twelve Mile CIRCLE. It's appropriate. Also it sounded a lot better than "barely warmed-up leftovers" which is what it really is.
I reached back to a trio of articles for the first item including one from the very early days of 12MC. My wife and I made our annual pilgrimage to "Savor: An American Craft Beer & Food Experience" yesterday evening. I first wrote about this event in May 2008 which was also the first year it was held. Back then the venue was the Mellon Auditorium in Washington, DC and since then it's been held at the National Building Museum except for last year when it moved to New York City. Naturally I've attended every year except for last year.
I'm getting to the point where my poor old body can't take too many beer festivals anymore. We concentrate on Savor which is run by the Brewers Association (the same group that does the Great American Beer Festival) and also the Great Taste of the Midwest in Madison, Wisconsin, which is run by the Madison Homebrewers and Tasters Guild. Those are all I need; I might as well concentrate on the best. Quality over quantity.
Right about now the entire 12MC audience is wondering where I'm going with this. Let's jump back a couple of months and revisit Geo-BREWities. One of the places I referenced was Confluence Brewing in Des Moines, Iowa. Well, to my complete surprise, notice what I spotted last night.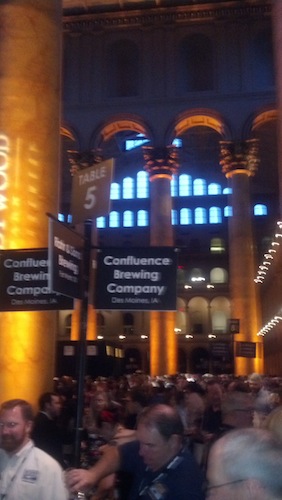 Last February I said,
Looking at its location a little more closely, the brewery can't be more than maybe a mile-or-so from the confluence of the Raccoon and Des Moines Rivers… I'll bet the river confluence inspired the name of the brewery at least a little even if I couldn't find it stated explicitly.
I can confirm that now. I had a nice conversation with the owners. Either that or they were humoring some oddball geo-geek who was asking them about their name.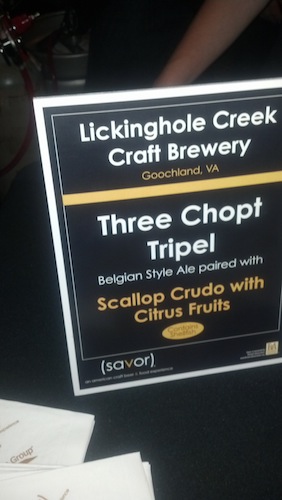 Another brewery connected with 12MC's Three Notches article, and specifically to the Three Notch'd / Three Chopt Road in Central Virginia which runs not too far from the brewery. Lickinghole Creek Craft Brewery is at the forefront of the whole Farm Brewery movement that's been building in recent years and offered a "Three Chopt Tripel" for tasting. Lickinghole sounded like a rather, um, interesting name for a brewery too. I guess you do what you gotta do to get your name to stand out in a crowded field. It's certainly memorable.
By the way there is also a Three Notch'd Brewing Company named after the same road a little farther west in Charlottesville. They weren't represented at Savor (I've tried their beers elsewhere) although I thought it was still worth mentioning because it aligned with the theme. I've now discovered a beer and a brewery both named for the same basic road.
Also represented was Mother Road Brewing Company from Flagstaff, Arizona, which would definitely qualify as a Geo-BREWity too. It was named for the Mother Road of course — the famed Route 66 — which ran through Flagstaff on its way from Chicago to Santa Monica. I should have taken a photo. I guess I was too busy grabbing coasters and stickers from their table. I'm a sucker for breweriana swag.
---
Monumental Ride
The boys and I will replicate the Monumental Ride I first referenced about three years ago, later today. I was informed in very certain terms that the best possible Mother's Day present would involve removing myself and the kids from the house for a few hours.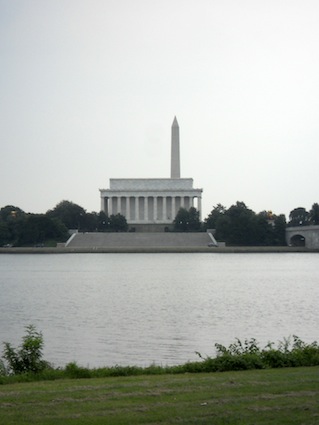 This might also be a good opportunity to mention the upcoming 12MC Geo-Oddity bicycle ride I've been threatening for awhile. It's finally going to happen and I'm trying to narrow down the date to a Saturday or Sunday in June. It will feature many of the sites discussed in Monumental Ride plus many more. The route remains a work in progress although here is what I'm thinking:


View Epic 12MC Geo-Oddity Bike Ride in a larger map

Those who expressed interest earlier should have already received an email message with more details and a request for date preferences. Those who want to jump on the bandwagon can contact me and I'll forward the same information along. It should be a fun, casual ride with plenty of stops for abundant geo-geekery.
---
Dorena-Hickman Ferry
Everyone is probably tired of hearing about my Riverboat Adventures so I'll be brief. The Dorena-Hickman ferry made an appearance in Part 3 (Borders). I finally uploaded some video footage to YouTube and created a dedicated page for the ferry on my travel website. That probably won't interest most of the 12MC audience although maybe a handful of readers share my ferry fascination and may want to see much greater detail about this particular one.