I've spent the last several days in Charleston, South Carolina, and packed a lot of visiting into a short amount of time. Over the coming weeks these will be catalogued as permanent pages within my Travel Adventures site, but I wanted to give you (my regular blog readers), a sneak peek at things to come.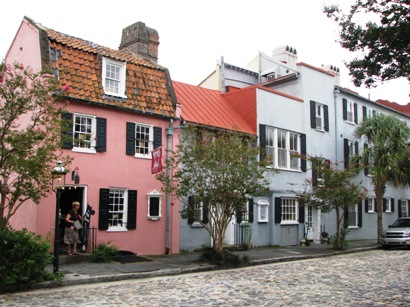 The Charleston historic district is known for its architecture. This typical view of early American homes along a cobblestone drive can be found on Chalmers Street. These well-preserved structures can be found block-after-block near the rows radiating up the waterfront.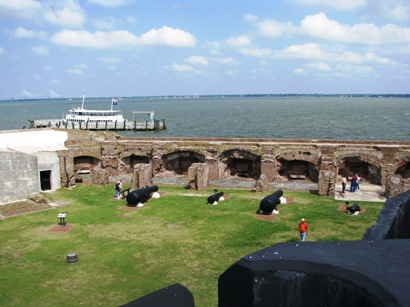 Charleston has played a prominent role in United States history. Just one example, Fort Sumter, marked the opening salvo of the American Civil War. It was built atop a manmade island in Charleston harbor as part of a coastal defense system. Today, tour boats take visitors to the sight throughout the day. What surprised me the most was its size. The island is tiny.
Go here for the completed entry on Ft. Sumter, with photos and video.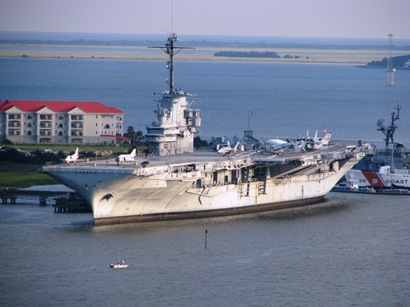 The USS Yorktown aircraft carrier served during the Second World War and into the postwar era. It is now a floating museum anchored along Patriots Point on the opposite side of the Cooper River from Charleston. I took this photo from the top of the Arthur Ravenel Bridge. Getting to the top of the bridge was easy since the builders conveniently included a wide pedestrian/biking path in their design. Hiking to across the bridge has become a popular activity in the few years since it opened, and the views are spectacular.
Go here for the completed entry on the USS Yorktown at Patriots Point, with photos and video.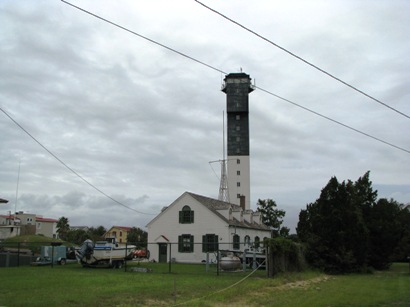 This is the Sullivans Island Lighthouse, one of the stranger looking lighthouses I've seen. Expect this one to appear on my Lighthouse Collection page. Sullivans Island is one of the barrier islands just offshore from the coast.
Go here for the completed entry on Charleston Harbor lighthouses.
Under
Cities/Towns
,
History
,
Island
,
Water
| Taged
Arthur Ravenel Bridge
,
Charleston
,
Civil War
,
Fort Sumter
,
Patriots Point
,
South Carolina
,
Sullivans Island
,
USS Yorktown
---