My Ends of the Earth wandering reminded me of an earlier Google Street View quest. A long time ago, way back in 2010, Twelve Mile Circle included an article I called The Shack at the End of the Road. This marked the northernmost extreme of Street View coverage in Canada at that time. I wondered about who lived there and whether they minded this invasion of their privacy. However nothing lasts forever so it seemed a fitting time to see if things had changed. It turned out that the resident of this shack no longer lived at the Canadian coverage extreme. Somewhere in the preceding years the spot shifted to Tuktut Nogait National Park, to a latitude of 69.34° north. The shack lost its notoriety.
A Very Remote Street View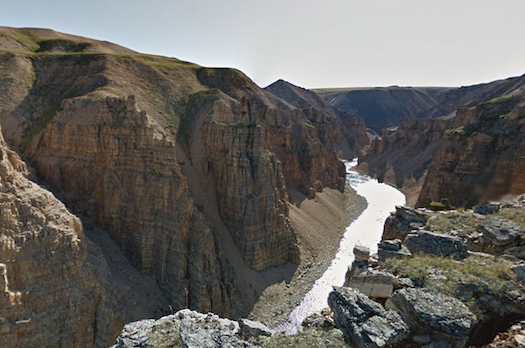 Tuktut Nogait National Park
via Google Street View, August 2014

Parks Canada described Tuktut Nogait as "one of the most isolated national parks in North America." The closest population lived 40 kilometres away by air in the tiny, isolated hamlet of Paulatuk. The nearest sizable town fell another 420 km farther west beyond that at Inuvik. Visitors getting into trouble in this park faced perilous odds. Help would not arrive quickly. Nonetheless and inexplicably, this site included a modicum of Street View coverage. Specifically, images fell into three separate clusters scattered broadly across the park. The northernmost spot overlooked the impressive Brock River canyon, a place so remote that it remained nearly unmentioned on Internet searches I conducted.
I needed to include an asterisk. No streets led to these absolutely gorgeous views from such an isolated Canadian park in the High Arctic of the Northwest Territories. Technically it didn't quite meet the definition of a "street" view. A man carrying a specially-designed camera backpack captured those images. However, this wasn't a unique, one-time effort. Canada and Google collaborated to provide Street View coverage for many Canadian parks. Google visited over 200 locations as part of this project. Parks Canada mentioned several primary benefits including virtual visits and dreaming, education and learning and trip planning. Clearly the 12MC effort fell into that first category.
That left some hope that the shack might retain its title.
---
Cambridge Bay

North Warning Site Cambridge Bay. Photo by Alan Sim on Flickr (cc)

Then I found Cambridge Bay, a settlement that grew around military facilities designed to warn against Soviet bomber attacks during the Cold War. They required construction and maintenance. Military personnel deployed there needed basic services. This opened rare employment opportunities for local Inuit inhabitants so a town sprang to life around it.
The Municipality of Cambridge Bay stood on the edge of Victoria Island, in the Kitikmeot Region of Nunavut. It seemed an unlikely location for Street View. Sure, it was the biggest settlement within hundreds of kilometres, housing nearly 1,500 residents. However no road connected it to the outside world. Cambridge Bay appeared as a blue dot completely isolated from any other Street View coverage area.
It came with a story though. A local resident petitioned Google to travel to Cambridge Bay in 2012. The New York Times described the results in "Coming Soon, Google Street View of a Canadian Village You'll Never Drive To."
There are no cars in Cambridge Bay, Nunavut. Aside from a few trucks, snowmobiles are the preferred form of transportation for much of the year in the hamlet high in the Canadian Arctic… All that would suggest that Google Street View has limited value there. But a pitch to Google from an Inuit man brought a tricycle fitted with Google's camera system to the streets of Cambridge Bay on Monday as part of what the company expects to become a long-term project in Canada's Far North… as a way to educate the rest of the world about the region.
Cambridge Bay wasn't as far north as the other spot in Tuktut Nogait although it was farther north than the original shack, and it had actual streets.
---
Yet Another Shack at the End of a Different Road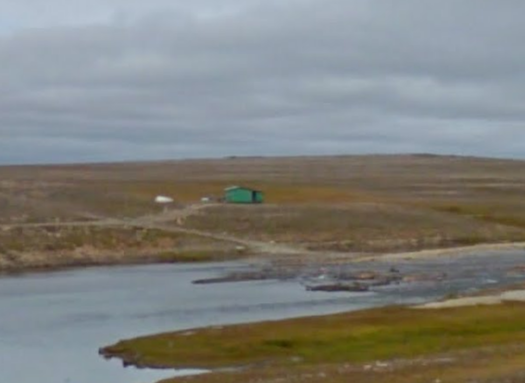 Outside of Cambridge Bay
via Google Street View, August 2012

Most of the Street View coverage for Cambridge Bay fell within the confines of town. I searched for the clusters of children on bicycles rumored to have followed the Street View tricycle mentioned in the article. However, I didn't find any. It looked really cold too, with people wearing jackets even during August. Coverage didn't make it very far out of town — after all the tricycle chosen for this endeavor relied upon human-powered peddling — although the biker did head northeast another two or three kilometres. I worked my way up to the northernmost point where the final image of Cambridge Bay ended. There I spotted a little green dot on the distant horizon. Was it a billboard of some kind, maybe the boundary of a military property?
I drilled down and found… another shack! I crowned a new king.
Under
Canada
,
Cities/Towns
,
Latitude
,
Roads
,
Terrain
| Taged
Brock River
,
Cambridge Bay
,
Cold War
,
Google Street View
,
Inuit
,
Northwest Territories
,
Nunavut
,
Paulatuk
,
Tuktut Nogait