County borders tend to be fairly intuitive, often composed of the irregular lines of natural phenomena such as waterfronts, riverbanks or ridgelines, connected by the straight lines drawn by surveyors. However, some counties ended-up with all kinds of interesting bumps, knobs, or sawtooth patterns owing to decisions made when one county was carved from another. A town might have an affinity with a particular side of the border. A mountain pass might provide a strategic advantage. A lake might contain valuable natural resources. All of these would be subject to negotiation and could result in the formation of unusual shapes as compromises and tradeoffs are struck.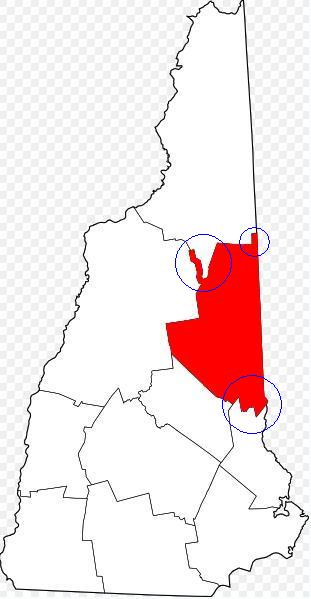 Carroll County in eastern New Hampshire named for the Charles Carroll, the last surviving signer of the Declaration of Independence, has a number of these anomalies. Notice the three features circled in the graphic above. The southern circle contains a sawtooth. One tooth holds the tiny village of Union in Wakefield Township surrounded on its sides by neighboring Strafford County. The northeastern circle contains North Chatham. Both of these became part of Carroll when it was created out of Strafford County in 1840. The squiggle in the northwestern circle contains Crawford Notch which follows the path of the upper Saco River. This gap provides a primary passageway through the White Mountains and for that reason alone was probably sufficient justification for Carroll County to acquire it when its borders were expanded into the present configuration in 1853.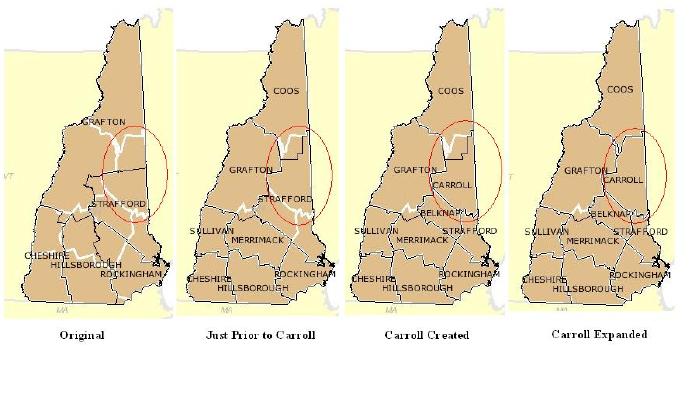 It was common for counties to go through a number size and border changes in the 19th Century and into the 20th Century, and Carroll County provides a good case in point. New Hampshire originally had five counties. Carroll was formed from one of the original five, Strafford County — which itself is just a sliver of its original form today. The map above shows how things changed in New Hampshire from its inception, through the initial formation of Carroll County in 1840 and to Carroll County's expansion within its current boundaries 1853, all superimposed on the present county structure (the white lines).
We tend to think of county borders as fixed because few changes are made today. However, that was not always the case.
---
Source of current Carroll County map:
Wikipedia
, released into the public domain.Source of Carroll County Evolution: The Newberry Library,
Atlas of Historical County Boundaries
---