Once again I find myself pondering the mapping tools available through Google Analytics and following a daydream to where it may lead me. My attention is drawn to a recent visitor from Bandar Seri Begawan in Brunei Darussalam, on the Southeast Asian island of Borneo. A quick glance at a map reminds me that Brunei is separated physically into two distinct sections. Temburong, with its capital in Bangar, forms a single district (daerah) encompassing the entire eastern portion of the country. Fewer than 10,000 people or only about 3% of Brunei's population live there.
Temburong is considered an exclave because it is separated from the rest of Brunei by Malaysia. Technically it is a "practical" exclave because its territorial waters run contiguously through Brunei Bay, but even taking this into consideration it's still a rather unusual arrangement. This is analogous to the Point Roberts situation in the United States.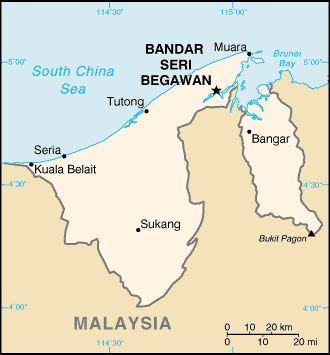 Brunei Darussalam is a remnant of a much larger Brunein sultanate that once encompassed all of Borneo and parts of the Philippines at its height. Its final contraction came as a result of the territorial aspirations of its neighbors, the White Rajahs of Sarawak during the latter half of the nineteenth century. The land split into its two distinctive portions when the Sultan of Brunei ceded the intervening Limbang district to the White Rajahs. Limbang is now a part of Malaysia, a point which Brunei still disputes. The residual bits of land became a British protectorate in 1888 and defined Brunei's modern borders when the United Kingdom finally conferred independence in 1984. The White Rajahs of Sarawak were also an interesting story in themselves: the Brookes family arrived from England, established themselves as Rajahs, and ruled their empire between 1841 and 1946 before ceding control to England… but I digress.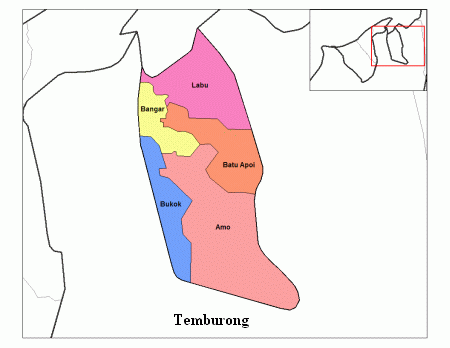 The Temburong district is surrounded by the Malaysian state of Sarawak on three sides, the west, south and east. Brunei Bay forms the remaining border. It is further subdivided into the five provinces (mukims) of Banger, Labu, Batu Apoi, Bukok and Amo. The district is notable for lush mountainous rainforest including those that are carefully protected and preserved in
Ulu Temburong National Park
. Drivers can travel from Temburong to the main portion of Brunei, but it requires two border crossings with Malaysia plus a ferry ride across the Pandaruan River. Others choose to hire speedboats to traverse between Bandar and Bangar in about 45 minutes, crossing open water and winding through twisting river delta along the way.
---
Source of Brunei Outline Map:
Wikimedia Commons
, a freely licensed media file repository.Source of Temburong District Map:
Wikipedia
, released to the public domain.
Under
Borders
,
History
,
International
,
Island
| Taged
Bandar Seri Begawan
,
Bangar
,
Borneo
,
Brunei
,
Limbang
,
Malaysia
,
Pandaruan River
,
Sarawak
,
Temburong
,
Ulu Temburong National Park
,
White Rajahs
---