My favorite inspiration, random Internet queries falling from the sky onto the Twelve Mile Circle via search engines, struck again recently. This time our anonymous explorer wanted to find more information about a bridge from Wisconsin to Michigan. The natural reflex would be to pull out a map…
View Larger Map
… and say to oneself, a bridge between Wisconsin and Michigan?!? Across Lake Michigan? Preposterous.
I know about a couple of ferries that cross Lake Michigan and I've even taken a ride on one of them. No bridge crosses Lake Michigan between Wisconsin and Michigan. I'm sure that's what my visitor was trying to determine.
However, examining the query more literally, there are actually plenty of bridges between Wisconsin and Michigan. One has to examine Michigan's Upper Peninsula to find them though. I love questions like this. The answer is yes. Unfortunately it's not the question they thought they'd asked. If I met our visitor in person I'd explain the situation very nicely so he'd think of me as a geo-geek instead of a jerk. I'd bore him with tedious expressions of kindness.


View Bridges from Wisconsin to Michigan in a larger map

I couldn't resist counting the bridges between Wisconsin and Michigan. I found, and I can't guarantee this is a complete list although it should be pretty good, a grand collection of bridges that I've marked on a Google Map.
24 automobile bridges
6 train bridges (including an abandoned one)
2 structures that might be foot bridges
Several that may have been bridges at one time or perhaps old ferry crossings
Multiple dams that might possibly be crossed for maintenance purposes, etc.
I didn't mark the dams or the former bridges. Feel free to hunt those down on your own if you like.
Bridges exist commonly here because two rivers form part of the border between Wisconsin and Michigan's UP. The northwestern segment follows the Montreal River that flows into Lake Superior. This runs through Ironwood, Michigan which is where most of that western blob is concentrated. The southeastern segment is the Brule River that flows into Lake Michigan. Bridges seem to be spread more evenly here with a concentration between Marinette, WI and Menominee, MI, as the river approaches the lake.
I'm fond of a pair of abandoned bridges that span the border.
View Larger Map
An abandoned railroad bridge is in the foreground and an abandoned road is in the background. Notice the street grid graphic in the bottom-right corner. Neither track nor road appears on the map. They're quite clear in Satellite view which is how I found them. Don't worry too much about the local residents though. This is Ironwood and other alternatives can be found a couple of blocks away in either direction. Examining the map, I think I can see where two streets used to join and now the route hops the river along the southern crossing.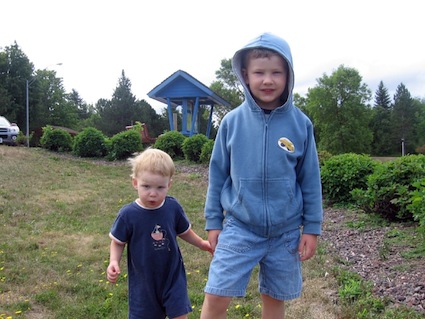 I've crossed on two bridges between Wisconsin and Michigan. The first time happened during a trip I took around the northern two-thirds of Lake Michigan. I used the appropriately-named Bridge Street travelling from Menominee to Marinette. The second time took place near Ironwood on US Route 2 (Cloverland Drive). We'd been cruising down US Route 51 in Wisconsin and diverted just across the border into Michigan to take a break at a roadside rest stop (right here). I could have remained on US 51 for another quarter-mile and gone to the Wisconsin rest stop. However, I wouldn't have been able to count Gogebic County if I'd done that, right? And we all know how much I value county counting.
Plus this marked my sons' first trip to Michigan. That's them above, at the rest stop. It's been awhile — the smaller one is now seven years old — and they've been to Michigan again subsequently. However this was their first time which is always special, even if all we did was stop to, um, take care of a certain biological necessity.
---
Somewhat related
I feel like we should come up with a name for our random anonymous visitor, instead of just calling him the random anonymous visitor. Any suggestions? Maybe Sid for "searching internet dude?"
Under
Borders
,
Cities/Towns
,
Roads
,
U.S. States
,
Water
| Taged
Brule River
,
Ironwood
,
Lake Michigan
,
Lake Superior
,
Michigan
,
Montreal River
,
Railroad
,
Upper Peninsula
,
Wisconsin
---