What is the shortest border in Australia between any state or territory? Take a look at the map and see if you can figure it out. You won't, but try anyway.
View Larger Map
If I were forced to guess quickly I'd probably say that a likely candidate would be the border between the Australian Capital Territory (ACT) and New South Wales. The ACT is a small enclave completely surrounded by New South Wales that was created in 1911 to hold the Federal capital. Construction of Canberra, the new capital city, started two years later. The entire border stretches only 306 kilometres (190 miles). That's pretty short but it's not the shortest.
If you're particularly savvy you may know about the Jervis Bay Territory and consider that a likely candidate instead. It used to be part of the ACT until 1989. At that time the ACT achieved self-government and Jervis Bay became a separate entity administered by the Minister for Territories.
View Larger Map
Google doesn't provide the borders for Jervis Bay and thinks it's still part of the ACT.
---
The Commonwealth Government purchased Jervis Bay from New South Wales in 1915. The intent was to provide the landlocked Australian Capital Territory with a seaport via a 173 kilometre (85 mile) railroad connection. However, with the relationship now severed, the standalone Jervis Bay Territory covers a tiny 70 square kilometres, and its land border with New South Wales stretches only 32 kilometres (20 miles). The 2001 census recorded 611 inhabitants in Jervis Bay, associated mainly with the Royal Australian Navy base HMAS Creswell.
That's a really short boundary, but unbelievably it's still not the shortest internal border in Australia. For that we need to consider the least likely of candidates, Tasmania. But Tasmania is an island, right? How could it possibly share a land border with another Australian state or territory?
Tasmania is indeed an island. However, the state of Tasmania includes the island of the same name plus a number of outlying islands.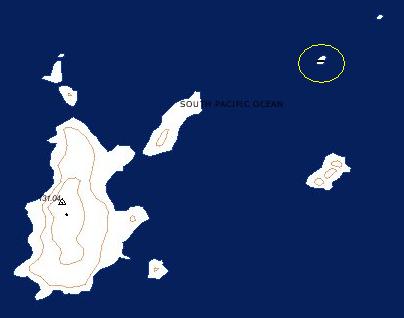 Created using Geoscience Australia MapConnect
The Hogan Group of Islands

---
The Hogan Group, lying in the northern Bass Straight, falls primarily within Tasmanian territory. However the boundary between Tasmania and Victoria, set at latitude 39° 12′ South, happens to cut directly through the area and coincidentally cleaves a rocky little outcrop known appropriately enough as Boundary Islet.
View Larger Map
This is a satellite image of Boundary Islet. It's so small (85 metres by 160 metres) that Google Maps does not even include it on its general or topographic views, rather produces it solely on its satellite view. It contains Tasmania's only land border, and the line between Tasmania and Victoria stretches a mere 0.085 kilometer, shorter than the length of a football field.
A table of Australian state and territory border lengths and other geo-trivia can be found at Geoscience Australia, a site that I've enjoyed picking through lately.
Under
Borders
,
Cities/Towns
,
International
,
Island
,
Latitude
,
Water
| Taged
Australia
,
Australian Capital Territory
,
Boundary Islet
,
Canberra
,
Geoscinece Australia
,
Hogan Island
,
Jervis Bay
,
Tasmania
---