We're spending a great portion of our adventure in and around the vicinity of Bend, Oregon. We've rented a house for the week. That has provided us with a sense of normalcy and a means to travel to numerous outdoor destinations while minimizing travel time.
View Larger Map
Once again, the map can be used to orient physical proximity of locations mentioned in the article. It actually represents several short side-trips from our home base.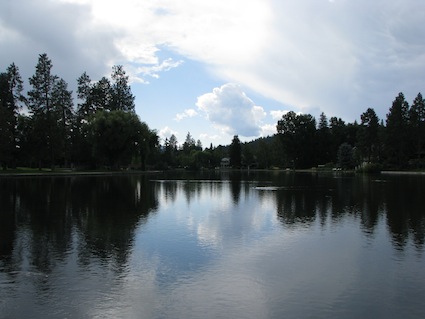 This looks remote and bucolic. It's actually located directly in the middle of Bend, mere steps from Old Bend and the downtown area. The Deschutes River arises from snowmelt draining down from the Cascades Range immediately to the west. It provides Bend and the rest of the valley with drinking water, recreational opportunities and a signature waterway. Bend would be nothing but scrubland, as is the case a few miles farther east, without Cascades snowfall feeding the Deschutes River.
Rather, Bend is filled with wonderful parks, including Drake Park which is pictured above. We stumbled onto this after we had trouble finding a parking spot downtown because of a festival taking place nearby. It's hard to believe that a five-minute walk will take one from riverside peacefulness to the heart of Bend's social activity.
Traffic and parking was more problematic than I imagined. Bend has experienced huge population growth. It had 20,000 residents in 1990 and 80,000 in 2012. I'm not sure the road infrastructure managed to keep pace. It's not been terrible — I live in an area with some of the worst traffic in the United States — just a bit surprising.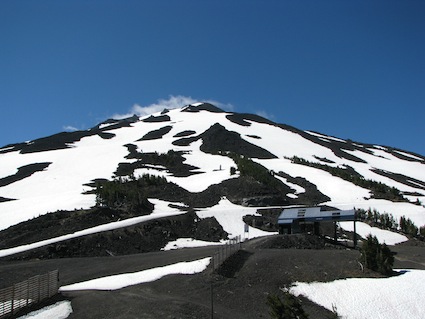 I used to ski in the winter. I don't do that very often anymore because nobody else in the family enjoys it. However we've become fans of ski resorts in the summer, somewhat counterintuitively. Ski resorts have made concerted efforts to transform themselves into year-round destinations to at least cover their fixed-costs after the slopes close. We had a good time visiting Park City, Utah last July and repeated the experience in Bend.
Mount Bachelor is Bend's closest ski resort, about twenty miles outside of town. I don't care how many times I've seen snow in July, it's still a thrill. We rode a chairlift high above the treeline, hiked around for awhile, enjoyed the view and stopped at the Pine Marten Lodge at 7,700 feet (2,350 metres) to warm up. Middle of July. Nearly frozen. Loved it.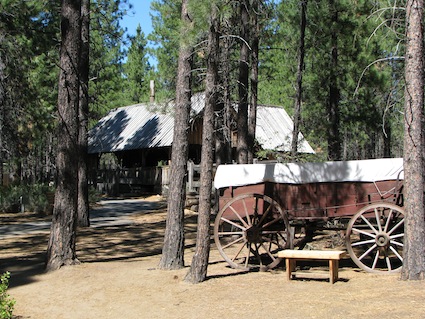 With all the mountains and snow-fed rivers, one tends to forget that we're still in Oregon's corner of the High Desert. The High Desert Museum south of Bend brought it back to reality. This was a nice attraction with indoor and outdoor components including a "living history" portion with costumed interpreters. It's a decent filler activity that's good for a couple of hours between longer-lasting activities, maybe as a means to round out the day. We hit the last two hours before closing time as the crowd began to wane.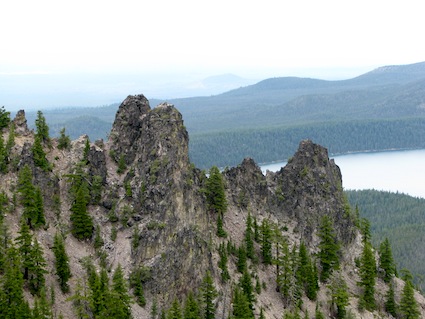 Central Oregon is a big volcano. It seems as if just about every mountain is volcanic in nature, and many of them remain active to one degree or another. Remains of lava flows fill valleys and define topography. It's hard to move more than a few feet without spotting a volcanic rock. Bend is a great location for exploring the Newberry National Volcanic Monument, which is managed by the U.S. Forest Service.
We hit the southern unit first, in the vicinity of the Paulina Visitor Center area. The Paulina Peak viewpoint was one of several highlights. That was my kind of mountaineering — one can drive an automobile straight up to its 7,985 ft. (2,432 m.) summit. The gravel road made me glad I'd rented a 4-Wheel Drive. Nonetheless we got to the top and spotted a Prius in the parking lot so how bad could it be? Yes theoretically, one could also hike to the summit. Maybe we'd have done that if we'd had more time. Who am I kidding?!? I'd always take the lazy way out.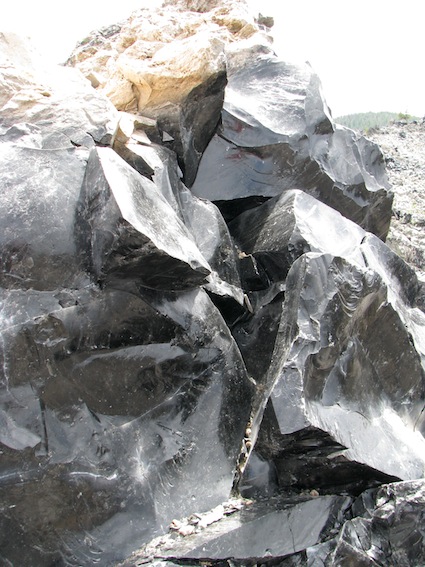 This is also the site of the Big Obsidian Flow, which wins points for its completely descriptive if unimaginative name. Indeed, it's a big obsidian flow and it's only about 1,300 years old. Obsidian is a volcanic glass and Native Americans used obsidian to create super-sharp cutting tools. Obsidian doesn't occur in a lot of places so broad trading networks formed wherever it occurred. The Big Obsidian Flow contains massive quantities and served as a major source in the Pacific Northwest.
---
Random Observations
(1) What do Oregon and New Jersey have in common? They're the only two states that I know about that do not provide a self-service option at gasoline stations. I'm not sure if it's some kind of protection racket for minimum-wage paying jobs or if they don't believe people have sufficient intelligence to operate a gas pump. Either way, it's a pain.
(2) I love county counting but I've discovered that even I have my limits. Lake and Harney Counties would cover a huge chunk of my Oregon map. However, I just can't seem to justify four hours of driving solely to capture them. Bypassing this opportunity will likely mean that I will never capture them, and I'm strangely OK with that. Don't think it didn't cross my mind though.
---
Other articles in this travelogue:
Under
Cities/Towns
,
Elevation
,
Nature
,
Terrain
,
U.S. Counties
,
U.S. States
,
Water
| Taged
Bend
,
Deschutes River
,
Mt. Bachelor
,
Obsidian
,
Oregon
,
Ski
,
Volcano
---