Many of you will recall my recent posting about Google Analytics and the wonderful tool it provides for people who like to leaf through maps for hours on end, and how it was such a delightful diversion. Included in that post was a bit of whining about how I'd incorporated Google Analytics a full month earlier and still hadn't recorded a single page view from anyone in the state of Arkansas. I'd had visitors from every other state in the Union, and I'd even gotten a hit from the tiny Northern Mariana Islands (a commonwealth in political union with the United States with only 80,000 people). Still, nothing from Arkansas. So finally this morning I was quite pleased and excited to see this waiting for me in the tool: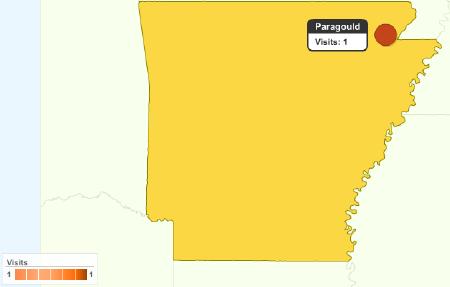 Google Analytics of course records Internet Protocol addresses of page viewers, correlates them to specific geographic locations and then plots them on maps based on user-generated preferences. It's not totally foolproof since IP addresses don't identify exact geographic locations every single time for every single user. I've noticed that my Internet Service Provider assigns me slightly different IP addresses and when I perform a reverse DNS lookup on them they can vary by a number of miles. The address is assigned to the ISP and not to me specifically. Generally it's pretty close, though, so over time they form a fairly reasonable radius around my actual location. It's more like a bullseye within a target. Many shots are taken, some closer and some further away than others.
The person from Paragould, Arkansas who visited may have been sitting just across the border in the Missouri bootheel (I'll blog about that unusual spot someday but not today), but probably not in Memphis, Tennessee which seems just a little too far away. In other words my visitor may have actually been sitting in Missouri or perhaps even Tennessee. However they came across on an IP address corresponding to Arkansas and I'm going to take it!
Thank you mystery viewer from Paragould. I hope you enjoyed your visit.
---