I've had my eye on a certain set of geo-oddities for a long time, the Arapahoe County exclaves that are fully enclosed within the boundaries of Denver City/County, Colorado. Denver had to find a way to grow as people moved to the area. They found a simple solution: annex land from their neighboring counties wherever necessary and possible. Denver succeeded in their expansionist strategy most of the time but not always. Two small parcels of Arapahoe County territory escaped annexation into Denver, but at an unusual cost. They were left stranded. They are totally isolated and physically separated from the rest of Arapahoe County.
The larger exclave defines the boundaries of the City of Glendale, a 0.6 square mile (1.4 sq. km.) tract with a population of about 4,500. There is also a second, much smaller triangular parcel nearby that doesn't seem to house much of anything.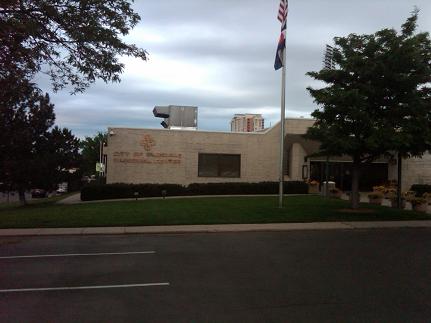 I discovered that it's really easy to drive to Glendale but a bit more difficult to determine when I'd actually arrived officially within its borders. I saw no signage announcing any crossings into Arapahoe County. On the other hand, Glendale itself was entirely indistinguishable from surrounding Denver. You would absolutely not be able to determine that you'd encountered anything unusual geographically unless you knew about this anomaly in advance. Glendale blends in seamlessly with Denver.
Fortunately I had the presence of mind to program my destinations into a portable GPS after carefully researching and calculating the boundaries using Mapquest. I figured the Glendale Municipal Center would be a particularly safe bet. After all, who would have the audacity to locate Glendale's center of government outside of its boundaries? Mapquest agreed and I set off on the most direct route to this specific destination. Obviously I arrived without difficulties and I took a photograph with my crappy mobile phone camera to record my achievement for posterity.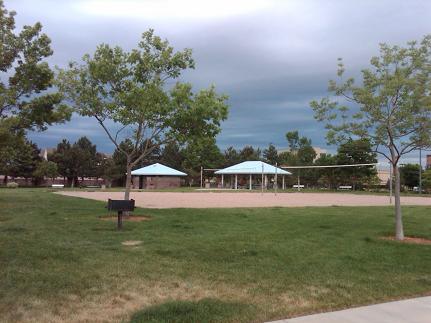 That wasn't enough. I wanted to experience all 0.6 square miles of this glorious anomaly. I'd researched a spot unquestionably within the heart of the oddity where I knew I could also find parking without any problems (special thanks to Google Street View), a place called Creekside Park.
I had to operate quickly. A thunderstorm loomed on the horizon with amazing cloud-to-ground lightning strikes like one only sees out here in the West. People were also looking at me like I was half-crazed: standing in the middle of the parking lot, thunderstorm looming, car running, door wide open, snapping rapid-fire photos of some random park.
I know that all of you understand this fascination of mine, but you also realize it's not well understood by the public at large. I'd captured my geo-oddity though and I called it a success.
---
Totally Unrelated
I read "USA Today" about twice a year, usually when it's been left at the door of my hotel room as has been the case all this week. The had an article a couple of days ago, and fortunately it's still online, that talks about a United States interstate highway signed entirely in the metric system: I-19 is in midst of metric muddle. Enjoy!
Oh, and here's something I stumbled across from a different source about a con man caught sneaking across the border in Vermont.
I wish I had more time to explore these topics but unfortunately my work and travel plans have made that impossible this week.
---