Aliens have left their imprint on the landscape, at least according to the U.S. Geological Survey's Board on Geographic Names. I conducted a search on their Geographic Names Information System and encountered undeniable proof of two alien lifeforms among their 2,199,977 records. All joking aside, I don't actually think the USGS is in cahoots with alien beings for the purpose of naming geographic features after them. I'm sure it's for other reasons (kidding!) Even so it amused me to discover them.
Alien Ridge
The USGS identified a feature they've labeled Alien Ridge, in Casey County, Kentucky. It's a rural area in the south-central part of the state. It's also the only county located entirely in the Knobs Region, "a narrow, horseshoe shaped region consisting of hundreds of isolated hills." That sounds like the exact type of location an alien would prefer. Imagine all the crags and hollows an ET could use to hide his flying saucer as he foraged through the countryside in search of probing victims.
I decided to investigate the Lat-Long coordinates provided by the Geological Survey to see if I could solve the mystery.
View Larger Map
Alien Ridge is definitely a ridge so that part of the description checks out as genuine. Then I discovered an anomaly right by the marker for Whited's Auto Sales, which paradoxically does not mention aliens anywhere on its website. A short road appeared, one named rather curiously, Allen Cemetery Road. Shouldn't that be Alien Cemetery? Is that the real coverup? Or should we consider the alternative, that perhaps the USGS made a data entry error? It was time to consult a topographic map with greater detail.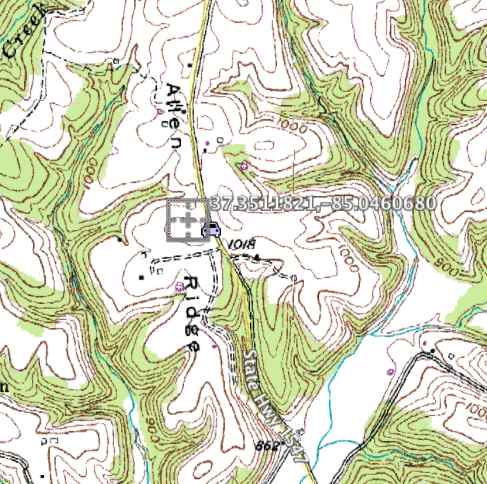 That solved the riddle. The feature isn't Alien Ridge it's Allen Ridge, as the bright readers of 12MC already figured out. Notice that the topo map includes a building right above the second "l" in Allen, making it appear somewhat like Alien. Someone must have made a transcription mistake when entering the feature into the database.
I still had one more shot at finding evidence of an alien conspiracy in U.S. place names.
---
Alien Biology
Somehow this wasn't what I had in mind when I asked people if they were aware of any Salt Lake City geo-oddities. In one of life's interesting little coincidences, the USGS led me to the Campus of the University of Utah where they suggested I might find an Alien Wilmont Skaggs Biology Residence Building. Does this mean the University has devoted an entire building to the study of an Alien named Wilmont Skaggs? No, it means the USGS made a double typographical error!
View Larger Map
Drill down to the spot and it's clear that the building was actually been named for one Aline (not Alien) Wilmot (not Wilmont) Skaggs. Naturally I had a burning desire to learn more about the slanderously maligned Aline Wilmot Skaggs. The Skaggs family, it turns out, produced multiple generations of wealthy entrepreneurs and philanthropists in the American mountain west. They specialized in grocery and drug store chains. Safeway? Albertsons? Yup, there's Skaggs family involvement in both of those and several others.
Samuel and Aline Skaggs created the ALSAM Foundation and donated literally hundreds of millions of dollars towards health research. No doubt the University was a beneficiary of this largesse and named a building for Ms. Skaggs in kind. Is it too much to ask for the USGS to stop accusing her of being an alien?
I guess I'll have to look for aliens elsewhere.
---
The usual notice: sarcasm is focused solely at the USGS and their proofreading skills; no offense intended for the UFO community. Are we cool? Let's keep comments civil. Thanks
Under
Event
,
Miscellaneous
,
Terrain
| Taged
Alien Ridge
,
Aliens
,
Conspiracy
,
Conspiracy Theory
,
Kentucky
,
Knobs Region
,
Skaggs
,
University of Utah
,
Utah
---