I encountered a number of interesting situations as I pulled together my recent series of borderlocking articles. One of those revelations pertained to Jeff Davis County(1) in the State of Texas. Examine its layout closely and notice that it intersects with neighboring Mexico but only at a single point along the Rio Grande River at its western extreme. I searched the maps to determine if this situation was replicated elsewhere in the United States but I could not find a single additional instance. I believe this may be the only example in the United States where a county contains a single-point international boundary.
This county outline map from Mapquest demonstrates the general situation. Jeff Davis County forms roughly a diamond shape turned on its side, anchoring the remainder of sparsely populated counties of farthest West Texas. Jeff Davis' gain is Culberson County's loss. Culberson is Jeff Davis' northern neighbor. It fails to reach the Mexican border by only a few miles due to the triangular layout of Jeff Davis, Hudspeth and Presido Counties at this remote intersection.
Mapquest allows viewers to drill-down even further to create this extreme closeup. One wonders what must be so vital at this point along the Mexican border to justify an extension of Jeff Davis county all the way to the waters of the Rio Grande.
I've driven through Jeff Davis County before, traveling between Big Bend National Park and Carlsbad Caverns quite a few years ago. It's desolate and empty, magnificent and beautiful in a haunting way. These were county lines drawn in a back room through the give-and-take of negotiation and not from the realism of underlying topography, of that I feel nearly certain. Long, straight lines make sense out here where few people live even today. It's easier to fix a point on a recognizable topographic feature, a river in this instance, and I doubt there's any more significance to it than that. I'm sure that went through the founders' minds when the county was formed in 1871 and I couldn't find any evidence to the contrary.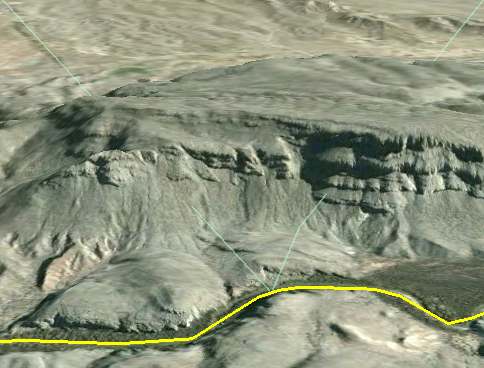 Google Earth demonstrated another fascinating feature. I grabbed this screen image from Google Earth with the 3D toggle activated and with sufficient tilt to activate the underlying topography. This view faces nearly due East, flying in from the Mexican state of Chihuahua (not to be confused with the dog of the same name), heading directly towards Texas. The yellow line represents the Rio Grande, the border between Mexico and the United States. Notice the pale green lines descending from the upper-left and upper-right corners and converging at the Rio Grand. Those are county lines. Thus, Mexico is the foreground, Hudspeth County is the left triangle, Jeff Davis is the middle triangle and Presidio is the right triangle.
It would be difficult to travel directly to the shared border between Jeff Davis County and Mexico without leaving Jeff Davis. Notice the large escarpment that stands within its path. I consulted a U.S. Geological Survey topographic map. The elevation changes from 3,800 feet to 3,236 feet over a short distance. The bluff drops nearly 600 vertical feet almost instantaneously.
It might be feasible to approach the point from either of the adjoining counties. Poke around any of the satellite images and one will find a number of farm roads leading towards the river a mile-or-two removed from either side of the point, allowing one to circumvent the escarpment at least theoretically. It's not clear to me from the images, however, whether it would be possible to hike along the banks of the Rio Grande on the U.S. side of the border all the way to the appointed spot or not.
Using a boat would be considered a border incursion. At the very least it would require a passport and possibly a lot of explaining to officials on both side of the line should an aerial patrols spot our intrepid waypointer in transit. I can just imagine someone trying this explanation with a representative of the US Customs and Border Protection agency: "Seriously, I'm trying to reach the only location in the United States where a country intersects with an international border at a single point." Somehow I don't see that one going over very well. That's nothing compared to what would happen if someone ran into a smuggler in these remote hills, which is probably the more likely and terrifying scenario. I can't imagine that ending well.
Nonetheless, if you're feeling adventurous and want to be the Indiana Jones of odd-geography, go ahead and set your GPS for 30.629097, -104.979983 and give it a go.
(1) Yes, it's named after that Jeff Davis, a.k.a., Jefferson Davis, the only President of the Confederate States of America, 1861-1865. I mention that in consideration of the tone-deaf governor of my beloved Commonwealth of Virginia who declared April 2010 to be "Confederate History Month."
Under
Borders
,
Elevation
,
International
,
Latitude
,
Longitude
,
Roads
,
U.S. Counties
| Taged
CBP
,
Chihuahua
,
Hudspeth
,
Jeff Davis
,
Presidio
,
Rio Grande
,
USGS
---