I've begun to plan a long-distance road trip for April that I'm not quite ready to reveal to the Twelve Mile Circle audience. However, offering just a hint, I noticed an oddly named town in Indiana called French Lick. It fell remarkably close to Santa Claus, the subject of one of the earliest articles on this site. I figured the fine people of Indiana must have a sense of humor.
French Lick

French Lick Springs. Photo by Dan Perry on Flickr (cc)

The named sounded familiar for some reason. Once I looked it up I knew immediately why I'd heard it before. Basketball legend Larry Bird grew up in French Lick. They even named a street after him there. Nonetheless, this being 12MC, the more fascinating tangent seemed to be the name of the town itself.
I figured the Lick part probably came from a nearby salt lick somewhere. Indeed, that seemed to be the case as I researched it further. Bison herds roamed this area in the days before people of European descent started pushing over the Appalachian Mountains and paddling through the Mississippi watershed. Bison and other animals gathered at these natural licks to literally lick the ground for essential mineral nutrients. It didn't take long for the newcomers to decimate local bison populations: "The last historical account of killing a buffalo east of the Mississippi occurred in 1830 at French Lick, Indiana."
The French part seemed more problematic. No definite French population settled at French Lick although the general vicinity fell within French control for awhile. Later American settlers just thought it sounded plausible that the French must have lived at that particular spot. An entrepreneur applied French Lick to a resort he opened at the lick — mineral spas being quite popular at the time — and the name stuck. The spa continues to exist today (map).
---
Licks of Kentucky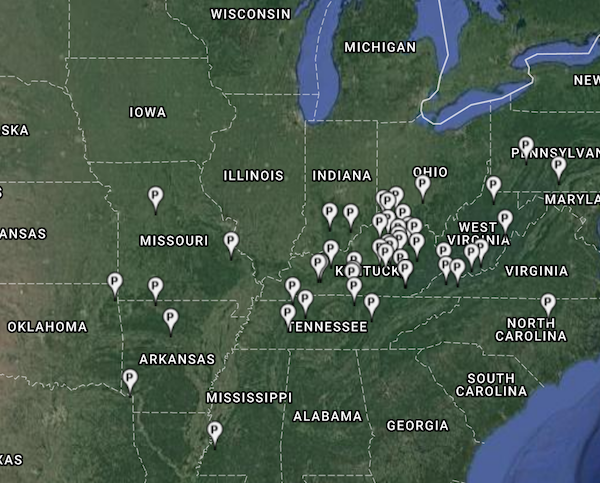 Place Names Ending in Lick
via GeoNames

There seemed to be a definite time and place for the word Lick to be appended to towns. The names were applied during a period when people still remembered that Bison once roamed east of the Mississippi River. That seemed to coincide with the early to middle Nineteenth Century. Licks clustered in places such as Arkansas, Illinois, Indiana, Missouri, Ohio, Tennessee, West Virginia, and especially Kentucky. I found a bunch of Kentucky place names in the Geographic Names Information System. There, all sorts of specific Licks existed: Bank; Bee; Blue; Deer; Flat; Grants; Grassy; Knob; Lees; Log; Mays; Mud; North; Paint; Rock; Salt; Slate; Sulfur; Wolf. I never did learn why they seemed to concentrate so predominantly in Kentucky.
The biggest of those Kentucky places appeared to be the town of Salt Lick (map). Pioneers were drawn there originally by abundant game that gathered at the local licks. One early account claimed that hunters once spotted 500 bison there. The animals left long ago although their legacy survived in the name of a town where several hundred people still lived.
Appending the word Lick to various place names seemed pretty unique to this region, too. I found only minor geographic references anywhere else in the world, and certainly none included town names.
---
Big Bone Lick

big bone lick state park. Photo by Joel on Flickr (cc)

Every once in awhile 12MC resorts to Beavis and Butt-Head behavior. Please forgive me. It might be best to jump entirely to the next topic. Nonetheless, I felt that I should note the existence of Big Bone Lick, a State Historic Site in Kentucky (map). It's on Beaver Road. Seriously.
Actually it sounded like a really fascinating place, and something right in my area of interest. It's called the "Birthplace of American Vertebrate Paleontology." An ancient mineral lick drew megafauna including mammoths. However, the lick occupied a rather marshy area and large animals sometimes got stuck. They died there and their bones remained in the muck waiting to be discovered several thousand years later. Settlers came to the area and saw those big bones so they named their nearby town Big Bone. It seemed logical enough. The unfortunate situation met by those ancient animals reminded me of the Mammoth Site in South Dakota that I visited a couple of years ago. I'll need to keep Big Bone on my list of places to see someday.
---
Young Lick Knob

Young Lick viewed from Brasstown Bald via Wikimedia Commons (cc)

A mountain in Georgia's Appalachian region bore the name Young Lick, reaching an elevation of 3,780 feet (1152 metres) (map). Hikers on the nearby Appalachian Trail could reach its summit –the knob — with just a minor detour. SummitPost described it as "a mellow hump along the ridgeline forming the Tennessee Valley Divide."
That's not what made it special, though. It marked the tripoint for Habersham, Rabun and Towns counties. It also marked a triple divide for Eastern Continental Divide watersheds. Water flowed to the Atlantic via the Savannah River. In another direction it flowed directly towards the the Gulf of Mexico. A final option also flowed to the Gulf, taking a circuitous route through the Mississippi River watershed instead.
If that wasn't motivation enough, it's located near Hellhole Mountain.