A new year dawned on Twelve Mile Circle as I turned my eye towards another batch of travel adventures. Plans began to fall into place. They won't approach the stratospheric heights of a very ambitious 2015 travel season although they'll still be substantive from my perspective. As always, I like to post my general plans ahead of time to solicit recommendation from the 12MC audience. I've visited many places I never would have known about otherwise without reader suggestions. I've even been lucky enough to meet some of you in person when we've crossed paths along our separate trails. Feel free take a few moments to examine these proposed routes and offer any suggested geo-oddities, roadside attractions, dubious historical landmarks, obscure parks, or other weirdness I shouldn't miss.
---
Finish Virginia
I've wanted to visit every county and county-equivalent in my home state of Virginia for the longest time. It didn't help that Virginia included 95 counties and 38 independent cities necessary to complete the quest, a total of 133 separate geographic entities. Each and every border had to be crossed. Those independent cities were the worst, with many of them scattered haphazardly around the Commonwealth in tiny out-of-the-way enclaves. I've chipped away at the total with determination over the last three or four years, and I finally came within striking distance after my drive back from western North Carolina last summer. I managed to knocked the total down to five remaining counties: Bath, Buchanan, Craig, Dickenson, and Highland. Those residual counties were all set deep within the rugged Appalachian spine bordering West Virginia and Kentucky, far away from any easy access. I will never hit them randomly; they will need to be tracked and hunted.
That will happen in mid-March if my plan unfolds as intended. I will drive to Charleston, West Virginia, then head down into Hatfield & McCoy country to capture several West Virginia and Kentucky counties, and finally loop back into Virginia to pick-up the remaining five. This one is actually the most uncertain plan at the moment. Much of the path involves minor roads through mountains and hollows. It's possible that freezing rain or drifting snows could accumulate here during that period. I'll have to watch the weather closely and maybe cancel the trip at the last minute. The plan itself is pretty solid and I can always shift it to a better time of year if necessary.
However, I want to get this done. Those five remaining counties are starting to bother me.
---
New England
What would I do without Mainly Marathons? Their back-to-back races in multiple states have entertained me for years. I'm a driver and a cheerleader for a specific runner, and in turn I get a valid excuse to poke into lightly traveled corners of the United States. So far we've completed the full set of multi-day Dust Bowl, Riverboat and Center of the Nation races. We will embark on the New England Series in May, covering those six states plus New York thrown in for good measure: seven races in seven states in seven days. It kind of reminded me of 12MC's Easiest New England article except that it will take seven days. Oh, and it requires seven races.
I've never heard of any of the towns where races have been scheduled. That makes them perfect.
Day 1 (May 15): Sanford, Maine
Day 2 (May 16): Greenfield, New Hampshire
Day 3 (May 17): Springfield, Vermont
Day 4 (May 18): Northfield, Massachusetts
Day 5 (May 19): Coventry, Rhode Island
Day 6 (May 20): Simsbury, Connecticut
Day 7 (May 21): New Paltz, New York
I've been persuaded to run the 5K each day, which is a far cry from the efforts of most participants who will be completing either a half-marathon, a full marathon, or a 50K ultra marathon each day. My seven-day mileage will total less than most participants' single day efforts! Are there any Twelve Mile Circle readers who would like to join me for a day? If I'm capable of running a 5K — and I use that term loosely because I plod along pretty casually — then certainly many other people can as well. It's a nice supportive community of runners regardless of the distance one chooses to cover. I've really come to enjoy this group.
My county counting map of New England looks pretty solid although I can still use this trip to fill-in a few doughnut holes. That will leave plenty of time for other roadside diversions because the distance between towns isn't much. Jerimoth Hill comes to mind.
---
Michigan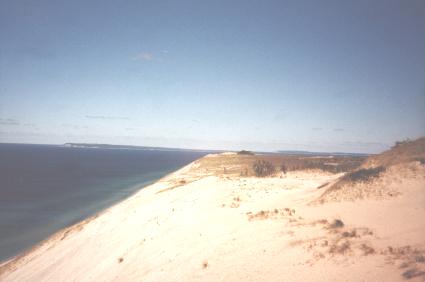 Sleeping Bear Dunes; my own photo

Each year I select a U.S. state for special attention. This time it will be Michigan, using Grand Rapids as our base. Grand Rapids might sound like an unusual choice to many in the 12MC audience. Those of you who follow my brewery adventures or who follow the photos on the 12MC Twitter account will understand the significance. In previous years I selected Oregon (Bend) and North Carolina (Asheville) for similar reasons. Founders Brewing put Grand Rapids on the map and countless amazing breweries followed suit. Do any of the beer geeks in the audience have any "can't miss" recommendations besides the obvious?
This trip will take place in July so I haven't thought about it much. I do want to get back up to Sleeping Bear Dunes National Lakeshore again. We'll probably have to visit Holland, Michigan too, because it's cheesy and touristy. I'll just have to see how research unfolds over the coming months. It's still a little hard to concentrate on summer when there's snow on the ground.
Under
Miscellaneous
,
Roads
,
U.S. Counties
,
U.S. States
| Taged
Appalachia
,
Brewery
,
Grand Rapids
,
Mainly Marathons
,
Michigan
,
New England
,
Road Trip
,
Virginia
---