What do I mean by Twelve Mile Circle in the Real World? I don't mean the actual circle itself which would be entirely too logical, rather I mean those rare moments in time when people read an article here and use that as motivation to undertake a physical action. And by physical I don't mean mumbling at the screen in disbelief when I say something stupid, which is probably the most common reaction, I mean getting away from the screen and actually doing something.
I'm referring specifically to situations when someone learns a new fact from the website and then visits the referenced geo-oddity. The text emanating from 12MC jumps from Internet to brain, and someone I've never met takes that newfound knowledge to do something fun and interesting. It's a great feeling and I love hearing about it when it happens.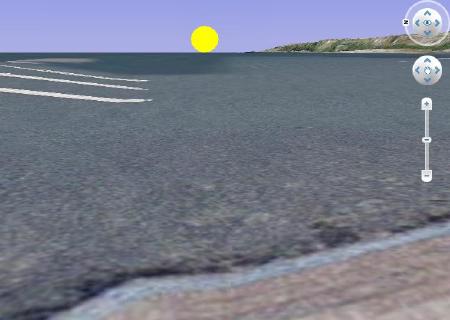 I created this in Google Earth when I thought it was possible in Port Angeles, Washington, that later proved wrong

We, the readers of 12MC and myself, had a good time in 2008 trying to determine places on the east coast where the sun sets completely over water, and conversely places on the west coast where the sun rises over water. Frankly, I hadn't done much with that topic after the initial conversation, and then Mathew Hargreaves picked it up and ran with it. You'll see from the comments that he made it his mission to prove it was possible to experience a sunrise completely over water on the west coast of the United States, on the Olympic Peninsula.
He examined locations on the ground and returned repeatedly, hampered by the Pacific Northwest's notoriously uncooperative weather. The magic spot turned out to be Sekiu on the west side of Clallam Bay on the beach by the jetty. He finally captured photographic proof on the morning of September 21, 2011. He estimates that the phenomenon exists for only a few days each September and March, and only when the clouds and fog dissipate. I can't imagine that more than a handful of people have ever observed this occurrence and fewer still recognized its significance. Mathew's experience may be unique.
---
View Larger Map
Phil Sites of the Weekend Roady blog is a big sports fan. He also appreciates geo-oddities with the best of them, and blends both topics together in his writings and adventures. He saw my Sports Facilities I Never Imagined entry and took note. It wasn't long thereafter that I learned that he'd visited the Cricket field in Climax, North Carolina I mentioned. It was great to see on-the-ground photographs of a site I'd seen previously only imagined from a Google Satellite view.
---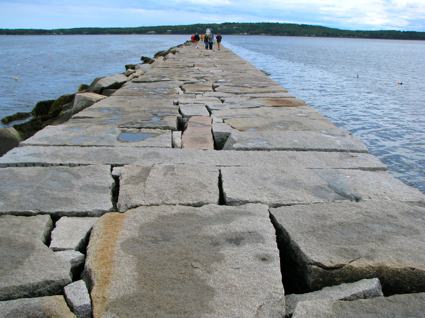 Mark Sundstrom read about a time I drove north and experienced A Week in Maine. He happened to drive through that same area and he used my writeup to visit a couple of the places I mentioned. These included Ft. Knox (the abandoned one in Maine, not the one with all the gold) and the single spot on the Rockland Breakwater where a single stone covers its width. The first location is fairly standard, but the second one can only be enjoyed be true aficionado of geo-oddities like Mark.
---
View Larger Map
"Prullmw" described a visit to Wallace, Idaho to experience the Center of the Universe, which he learned about on 12MC. He went a total of about ninety minutes (round trip) out of his way, but in his words "it well nigh impossible not to take a late afternoon trip to this notable spot."
---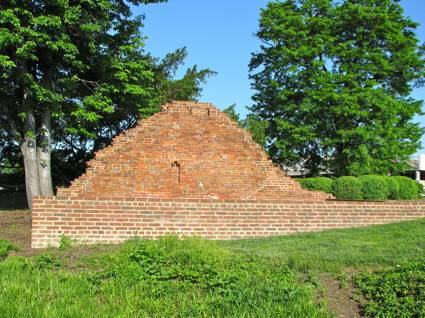 The Summer Kitchen
Longtime reader Craig was fascinated by the Abingdon Plantation Ruins. He happens to live nearby and had often wondered what they were as he rode by on numerous occasions. He was hoping to visit them that very afternoon. I'll bet by now he's completed that visit but until then let's call this one a near miss.
---
KCJeff reacted to County Counter Extraordinaire. Certainly he had an "aha! moment" when he learned that he was among an extraordinarily small crowd that had ever crossed the border between Jackson and Ray Counties in Missouri, which is impossible to do by automobile. He was considering whether he should start counting individual county border crossings or not. Only KCJeff knows for sure. Let's call this one a near-miss, too.
I am sure I am missing other examples, and for those of you who have let me know about your visits, please accept my apologies. There are now more than 2,000 comments on 12MC so I couldn't review them all, and my memory is notoriously bad. Please keep those comments and emails coming, though. I love hearing about your geo-oddity adventures inspired by 12MC!
Under
Cities/Towns
,
Miscellaneous
,
Water
,
Weather
| Taged
Abingdon
,
Breakwater
,
Cricket
,
Fort Knox
,
Kansas City
,
Olympic Peninsula
,
Rockland
,
Sekiu
,
Wallace Idaho
---